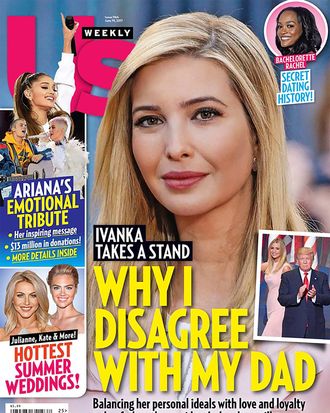 This week's cover of Us Weekly.
Photo: Courtesy of Us Weekly
If you ever wondered about what Us Weekly's recent $100 million sale to the Trump-friendly American Media Inc. would mean for the tabloid going forward, look no further than this week's cover featuring Ivanka Trump. Though the stunning portrait and first-person cover line — "IVANKA TAKES A STAND: WHY I DISAGREE WITH MY DAD" — suggest an exclusive interview with Trump, the story inside the tabloid is just a puff piece full of old quotes meant to flatter her. The new Us Weekly was built to produce a cover story like this: a low-information profile that serves only to bolster the image of its subject.
There are two reasons why this story makes perfect sense, and why we'll probably be seeing more of the same from Us Weekly in the next few months. The first is that Us Weekly no longer has the same reporters: The tabloid laid off almost all of them when the sale to AMI closed in April. Those reporters took their sources and hard-won celebrity relationships with them. Us Weekly used to be the top-rated tabloid in terms of accuracy, but without well-sourced reporters, "real" stories and exclusives from celebrities don't happen. Instead, you get profiles like Ivanka's, with no original quotes or information.
Now, Us Weekly's editors have to start from scratch in terms of courting sources and building relationships with celebrities. As veteran gossip blogger Lainey Gossip wrote in May, the easiest way for them to do that is to flatter celebrities. The tabloid already did it with Taylor Swift, producing a boring, overly flattering cover story about how hard she's working on her new album. It was "certainly an appeal to [Swift sources], and to Taylor, that the new Us Weekly wants to be on her side, that they're willing, for now, to tell any story that's on her side," Lainey wrote. "What we're seeing is a courtship between new Us Weekly and celebrities."
So this week's cover story is an appeal to Ivanka: Hey, we like you, we are willing to tell your story, whether or not your story is in any way accurate. Why Ivanka? AMI's chief executive is David Pecker, a Trump backer who has already used his company's flagship title The National Enquirer to flatter President Trump. Ivanka, then, is the new Us Weekly's ideal celebrity: the most attractive member of the political family that matters most to the CEO.
With limited sources and celebrity relationships, the only thing that was left for Us Weekly to do, really, was publish an empty, grinning appeal to the First Daughter. Now, we wait to see if she takes the bait and starts providing exclusives to the tabloid. If she does, Us Weekly stands to evolve into a weekly Ivanka Trump propaganda outlet.