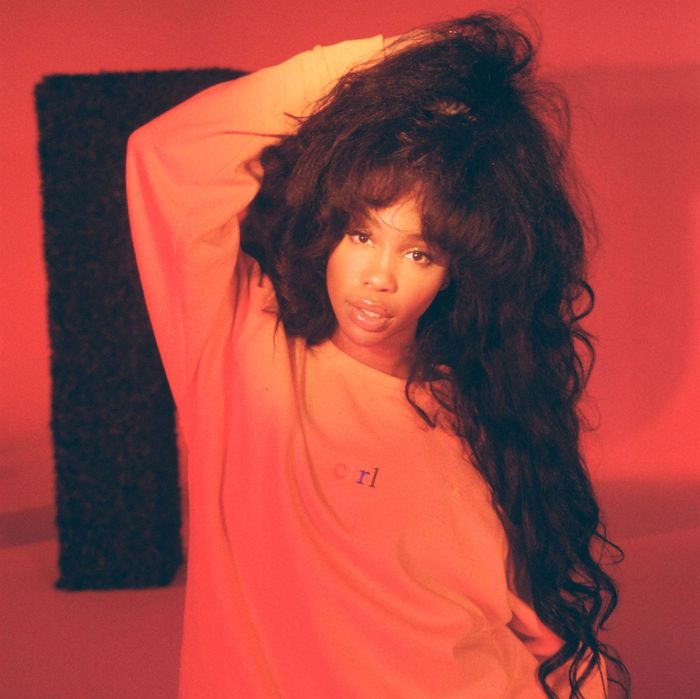 SZA.
Photo: Courtesy of the artist
Since SZA dropped her full-length album, Ctrl, I've been getting variations of the following messages from the friends who, like me, have it on repeat: "This SZA album reminds me of my last relationship," "This SZA album reminds me of your last relationship" (thanks), or "I AM SZA, SZA IS ME."
SZA could have cribbed the whole R&B masterpiece from our Tinder exchanges, emails, iMessages — it's like she can intuit every thirsty intention behind an Instagram fave or a retweet. Just as mournful indie-rock guys had Bon Iver's For Emma, teens (and teen-like women) had Taylor Swift's Red, sad hypebeasts had Drake and PartyNextDoor's "Come and See Me," women — specifically black women — now have their own intensely personal-feeling collection of songs about sexual freedom and intimacy and insecurity and vulnerability and overconfidence and being smarter than the fuckboys.
What makes this album mean so much to so many is the incredibly precise, sort of painful specificity: Mad TV, tacos, open relationships. Here, a selection of lyrics that will will make you say "oh my god that's my life!" and then send them to your ex, your crush, your disposable sex partner, your best friend:

To the dude who stood you up on Valentine's Day, so you enacted revenge (or, you know, anyone who has ghosted):
I been secretly banging your homeboy / Why you in Vegas all up on Valentine's Day? ("Supermodel")
To the D2B ex-boyfriend, when the spell is finally broken:
That's why I stayed with ya / The, the dick was too good / It made me feel good / For temporary love / You was a temporary lover ("Supermodel")
To yourself, in Notes:
"I really wish a was a normal girl, oh my / How do I be, how do I be a lady" ("Normal Girl")
To the guy in an open relationship who texts "U Up?" once a week:
I don't care long as you're here by 10:30 / No later than, drop them drawers / Give me what I want ("The Weekend")
For any man you'd find in line for the new Supreme release, really:
High key, your dick is weak, buddy / It's only replaced by a rubber substitute ("Doves in the Wind.")
To anyone at 2 a.m., really:
Somebody get the tacos, somebody spark the blunt / Let's start the Narcos off at episode one ("Drew Barrymore")
To your S.O. at 2 a.m.:
You know I'm sensitive about havin' no booty, havin' nobody, only you buddy ("Garden (Say it Like That)")
To a crush when you're high and watching TBS but also want them to come over or your best friend who keeps dating jerks:
Forrest Gump had a lot going for him / Never without pussy / Y'know, Jenny almost gave it all up for him ("Doves in the Wind")
You know what, honestly just copy and paste the entire album.