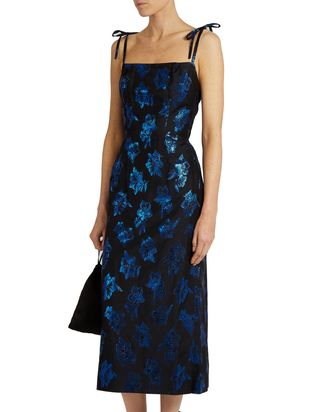 I'm not the most conventional dresser. I love strange clothes that other people find bizarre (if not straight-up ugly), like these mismatched pants. But there's one dress I've fallen in love with that somehow all my friends, with their wildly varying styles of dressing, agree is "pretty." I came across it by accident while browsing Matches late one night in bed. I wasn't looking for anything in particular since I had already splurged on a black slip for all the weddings I have to attend this summer. But as I scrolled through a sea of seasonally appropriate printed caftans and frothy white maxi dresses, I stopped on this moody, dark creation.
The calf-grazing dress is by a brand called the Vampire's Wife. The two-year-old line is the brainchild of Nick Cave's spouse, Susie Cave, and features sweeping velvet gowns and delicate candy-colored cardigans. The design of this dress is fairly simple – a fitted silky sheath with shiny blue flowers and two thin straps knotted at the shoulders. It emphasizes my waist without constricting, and skims my hips in a flattering, not-too-tight way. It also adds visual inches to my five-foot-two frame by creating a long, elegant line from my neck down to my ankles. This is a dress you can wear to a family wedding full of judgmental relatives and on date night. Even the most ardent summer goth can agree that's really all she needs in an outfit.
If you buy something through our links, New York may earn an affiliate commission.