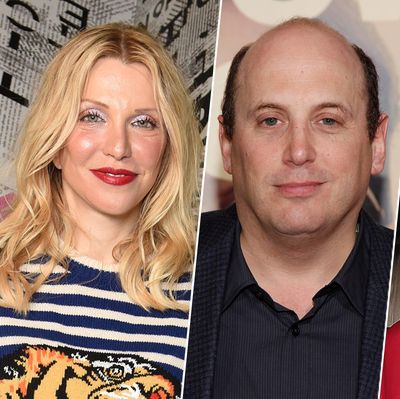 Left to right: Courtney Love, Kurt Eichenwald, Katy Perry.
Photo: David M Benett / Charles Eshelman/ Ricky Vigil M
Every week brings such an overwhelming onslaught of news that sometimes the most entertaining bits can fall through the cracks. In This Week in Drama, we recap the pettiest squabbles, juiciest feuds, and other niche drama you didn't know you were living for.

The Rudest Possible Proposal
As an ostentatious show of a couple's love for each other, weddings often trigger single people to unreasonably convince themselves that, Hey, I'm ready to get married too! After all, wouldn't it be nice to have a big party where no one can get mad at you for screaming at them for not protecting the train of your dress from the stray manure in your rustic barn rental? Still, it's customary to wait to act on these feelings until after the wedding you're currently attending — unless, of course, you're this guy, whose (ex?) friend recently wrote to Dear Prudence:
My husband's best friend, "John," was the best man/officiant. The setting was beautiful, everyone seemed happy, our families were overjoyed. My mom may have used the phrase hallelujah a few dozen times. The entire atmosphere felt moving. So moving in fact that John stopped midceremony to propose to his longtime girlfriend, "Jane," and reveal her pregnancy.
Oh no.
I couldn't even hear the vows my husband wrote or the rest of the ceremony over the noise of Jane's happy sobs, her very surprised family who were also guests, and people seated nearby congratulating her.
Oh HELL no!
Even the videographer cut to her frequently during the ceremony, and you can't hear anything over the chatter.
If anybody even so much as takes an unflattering photo of us at our weddings, we'll never speak to them again.
The Courtney Love/Linda Sarsour Twitter Spat
Remember when Frank Bruni found Courtney Love's iPhone in a cab and it was a brief, serendipitous moment to enjoy? Your worlds are colliding once again, but this time Love directly started it and it's far less pleasant: The former Hole singer attacked civil rights activist Linda Sarsour on Twitter for raising money on behalf of Rahma Warsame, a Somali woman who was allegedly beaten in Ohio. In a series of tweets, Love accused Sarsour of being a "fraud" and "inciting anti American rhetoric."
Sarsour responded quickly.
Ah, the old "I don't know her" burn.
One Journalist's Hentaigate
A few months ago, journalist and liberal conspiracy theorist Kurt Eichenwald was in the news because the FBI arrested a Twitter user who sent him a GIF that purportedly caused him to have a seizure. This time around, it's because of tentacle porn.
On Wednesday, Eichenwald posted a photo that included his computer screen and one enterprising Twitter user zoomed in to find that he had an open tab in which he'd been searching for "B-Chiku," a type of hentai porn. The internet promptly lost their minds, and Eichenwald made the mistake of tweeting through the trolling (nevertheless, he persisted, one might say).
He claimed that he and his kids were talking about tentacle porn, and wanted to prove to his wife that it existed.
And even went so far as to post a screengrab of a text exchange with his wife about it.
Ultimately, it was so spectacularly mishandled and hilarious that it managed to get him trending — even while the Comey hearing was happening. Tentacle porn truly brings the people together.
The '2008 Financial Crisis of the Fashion World'
This month, 2nd Time Around, one of New York's best-known consignment stores, shut its doors for good. If you thought a used-clothing store could cease operations without a Real Housewives–episode amount of spitting, stealing, and shouting, we're sorry to report that you are wrong.
Racked got all the details of the dramatic encounters between angry customers who say they've been ripped off and the store's overwhelmed employees:
"Particularly in New York, it's been very difficult," says one employee, who declined to be identified as she still works for the company and will soon be looking for a new job. "Camera crews have been barging into stores and causing utter chaos. We've had to call the police because customers have physically put their hands on employees. It's unnerving and it's scary to go to the store when it's not even supposed to open for 45 minutes and there's already a swarm of people ready to jump. They're trying to push in the door while you're unlocking, and you still need to turn on the lights and turn off the alarm, and they're just trying to force their way in."
And once they're in the store? It's been getting kind of ugly:
People come into the store and they try to take other things — they think because I can't give them cash, or I can't give them a check or whatnot, that they can just take somebody else's personal item as compensation. So we have that that we're dealing with. We have consignors literally coming into the store trying to loot us!
But who can blame them? Consigners say they've been totally ripped off, and haven't received their money for months. But at least those involved aren't overreacting:
"Maybe I'm over-dramatizing it," [one consigner] says, "but what I said to the customer service person who was recording our conversation was that this is like the 2008 financial crisis of the fashion world. You have a corporation screwing over the little guy."
Sounds like a job for Fearless Girl. ;)
The Pop-Star Feud That Just Won't Die
We won't regale you with all the details of the storied feud between faux-feminist pop divas Katy Perry and Taylor Swift, but here's the gist: The two originally argued about backup dancers; Taylor wrote "Bad Blood" about Katy; Katy has spent the entirety of the promo tour for her new album stoking the fires of the years-long beef. But on Friday Taylor stepped it up a notch by announcing she'll be putting her entire music catalog back on streaming services like Spotify — just in time for Katy's album release. Now Katy's Witness will have to compete with all of Taylor's albums for playtime on Spotify on Friday.
Is now a good time to admit we're terrified of Taylor Swift?