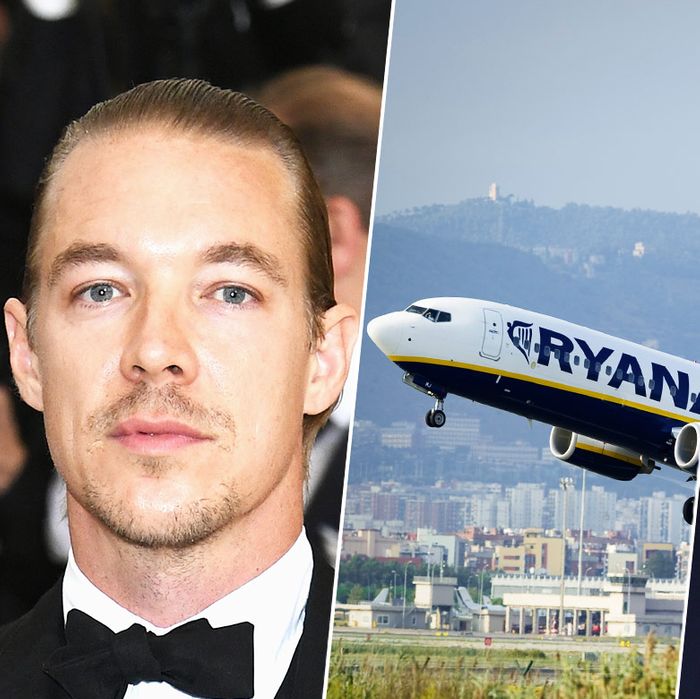 L to R: Diplo, a Ryanair plane, Malcolm Turnbull.
Photo: Getty
Every week brings such an overwhelming onslaught of news, that sometimes the most entertaining bits can fall through the cracks. Here, we'll recap the pettiest squabbles, juiciest feuds, and other niche drama you didn't know you were living for.
The Feminist Blog Brawl
Great news for everybody who enjoys a good corporate feminist media takedown: the Bitch versus Bustle saga has officially transitioned to phase two, and this phase involves letters from lawyers.
If you haven't been following, Bustle — the content farm for millennial women — recently launched the Bustle B-Hive, which is marketed as "a place for you to tell us about who you are and what you think so we can inform the entire universe about what's important to Bustlers and all the millennial ladies that are driving public opinion and trends." This, of course, is just a thinly veiled way of collecting user data to sell to advertisers in the name of empowerment. So last Friday, Bitch — a nonprofit feminist media organization that publishes Bitch Magazine — called Bustle out for their sketchy practices, and for ganking the name B-Hive, which Bitch named the monthly membership program they launched in 2009. The Bitch post was of the scorched-earth, take-no-prisoners variety. A choice excerpt:
What Bustle is doing isn't about working toward equality, or liberating women from circumscribed gender roles, or even about making media and pop culture better reflect people's real lives and identities. It's about using women to sell shit to other women in order to further benefit wealthy people who literally do not care what they're selling as long as it makes them more money. At a time when media outlets are being held accountable for tokenizing marginalized people for buzzy content while failing to include them in their leadership — or failing to even pay those writers at all — Bustle ought to know that its listicle-driven, SEO-superfriendly content isn't fooling anyone anymore.
Dang.
According to a new post Bitch published on Thursday, Bustle responded to their screed by offering to change the name of the B-Hive, but only if Bitch took down the post calling them out. And according to Bitch, "The message containing this generous offer came from a corporate law office, with two lawyers copied on the email."
Bitch is refusing to remove the post, so we have to assume there's a part III of this scandal on the horizon.
Diplo Defends His Sex Reputation
Last week, when newly awakened Katy Perry ranked her sexual partners by their prowess, she placed her DJ ex Diplo dead last. But the diarrhea-awareness advocate wasn't about to take her comments lying down. "I don't even remember having sex," he replied to a post about the news, adding shortly afterward, "I won the bronze metal in sex Olympics."
Nobody tell him it's "medal."
The Mile High Club

When you buy a ticket for a flight on a super-budget airline, you can expect two things: one, that there's a fair chance the plane may fall apart in midair, and two, that passengers nearby will engage in acts you wouldn't imagine witnessing on a Delta flight.
This story about a wild airplane trip actually has three stages of good-ass drama.
Stage one: First, photos went viral of a woman having sex with a "stranger" she met on a Ryanair flight from Manchester to Ibiza. The woman reportedly grinded (ground?) on top of the man while he called out to fellow passengers to see if anyone had a condom. Who are these two people? That's what we'll find out in …
Stage two: The guy turned out to be an engaged dude who was flying to Ibiza for his bachelor party. And guess what? His pregnant fiancée was waiting for him back home. Oops! Then …
Stage three: The girl in the video claimed it was just a lap dance and no sex occurred. As a friend of the woman put it, "Nothing really happened. She did a fully clothed lap dance for a laugh, no sexy time occurred."
Nothing to see here, folks.
Houston, We Have a Problem
On Sunday, a woman named Katie Hinde tweeted out a photo of the children's clothing section at Target, writing "Did I just take a bunch of NASA tank tops from the boys section & put them in the girls section? Yes. Yes I did."
It went viral, though it wasn't long before people began to call it out as a performative, self-congratulatory gesture that would — as anyone who's ever held a job in retail can attest to — simply serve to make a worker's job more difficult.
Hinde defended it as "confronting sexism."
Meanwhile, the replies devolved into someone calling patronuses from Harry Potter an example of "cultural appropriation" because they're from "Ancient Roman culture."
Yeah, we don't know what the hell is going on either.
Anyway, the whole thing initially kicked off because Hinde went to Target to buy a Wonder Woman T-shirt, so it sounds like what we have here is a pop feminism Bingo!
The Australian Prime Minister Was Caught Roasting Trump
There's no worse feeling — or better spark for a firestorm of drama — than when you're caught talking shit about someone. On an international scale, audio of Australian prime minister Malcolm Turnbull making fun of Donald Trump leaked on Thursday. Their relationship didn't get off to a good start in the first place, with Trump telling Turnbull back in February that their initial conversation was "the worst call by far" with a fellow world leader. They seemed to get along just fine during a May dinner on the Intrepid, but Turnbull mocked it during what was supposed to be an off-the-record event on Wednesday night.
He also did his best imitation of the president:
The Donald and I, we are winning and winning in the polls. We are winning so much. We are winning, we are winning like we have never won before. We are winning the polls. We are! We are. Not the fake polls. Not the fake polls! They're the ones we're not winning in. We're winning in the real polls. You know, the online polls. They are so easy to win. I know that. Did you know that? I kind of know that. They are so easy to win. I have this Russian guy. Believe me it's true, it is true.
Trump has yet to respond, but the angry tweets should drop really any day now.
The Cupcakes & Cashmere Explosion
Cupcakes & Cashmere — the lifestyle blog that perfectly exemplifies the formula of naming your lifestyle blog two unrelated things connected by an ampersand more than perhaps any other — is being publicly called out by an ex-employee. Alina Gonzalez posted the details of her firing, essentially crediting it to a co-worker who was a "snitch" and an "absolute fake, two face" and a boss who wanted to "punish" and "disrespect" her because she worked from home while said boss was on vacation.
Jezebel unpacked the whole situation, which includes Gonzalez's line that "there was an understanding that it was a retarded expectation … sorry for the hard R — I've never claimed to be politically correct, I'm sorry, I love all people." By far the best detail is that Gonzalez presented this all in the form of an Instagram story with over 60 parts.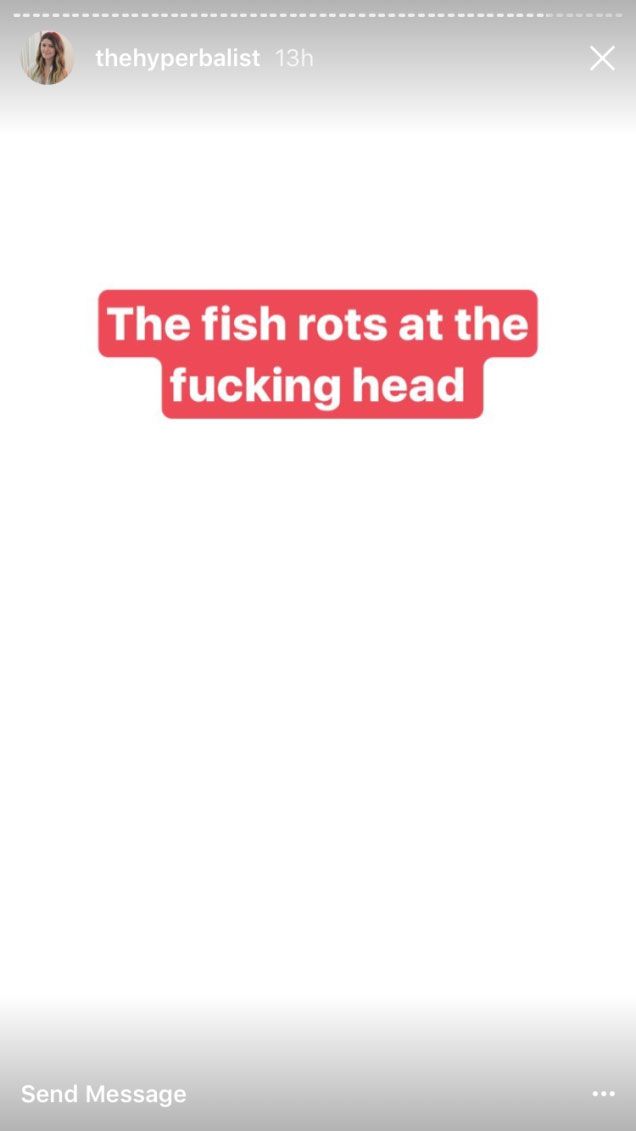 Seeing all those tiny white tabs at the top of the screen is enough to give anyone chills.
Catch up on previous drama here.