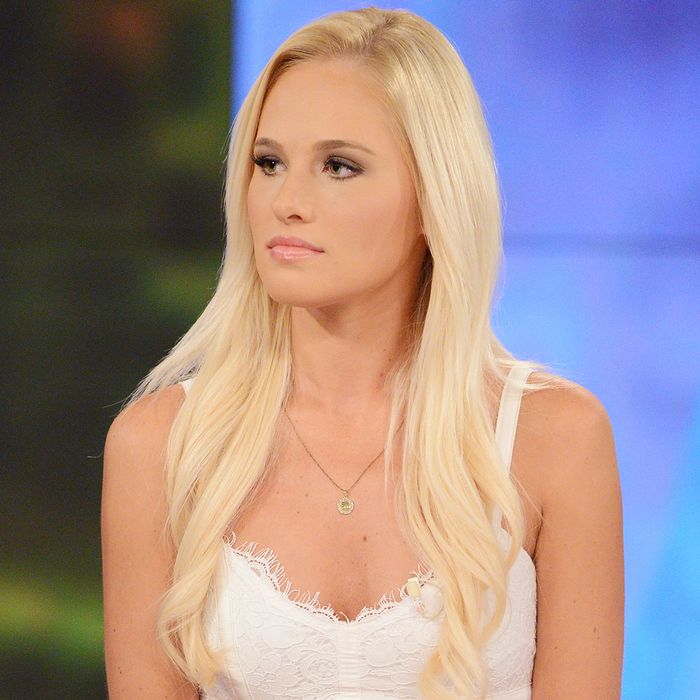 Tomi Lahren.
Photo: Lorenzo Bevilaqua/ABC
Conservative pundit Tomi Lahren doesn't seem to understand just how much birth control costs. In an interview with Marie Claire, the 24-year-old right-wing commentator claimed her birth control only costs $9 a month without insurance, but in reality, it usually costs a lot more.
Speaking with Marie Claire, Lahren — who recently settled a wrongful termination suit with the Blaze and Glenn Beck — was asked about her stance on birth control. She explained that she isn't against giving people more access to birth control, but that she's worried that would mean more funding for Planned Parenthood, which she called a "touchy subject." She added that she doesn't think government funds should help with birth control in the first place — because it's so affordable.
"I can't speak for every woman, but my birth control is covered by my insurance, and if it weren't covered, it would cost $9 a month," Lahren said. "I don't know a lot of women who can't afford $9 a month. I can understand that maybe there are some who can't afford that, but I just don't think birth control is so outrageously expensive that government funding for it is necessary."
However, the birth-control support network Bedsider states that birth control can cost as much as $113 per month for women who don't have insurance or Medicaid coverage. Meanwhile, many people end up not having to pay any out-of-pocket costs for birth control under the Affordable Care Act, Bedsider notes. Additionally, getting a birth-control prescription in the first place requires a doctor's appointment, which Planned Parenthood states can cost anywhere from $35 to $250 (though most insurance plans cover birth control–related doctor's visits under the ACA — which Republicans are currently working to repeal).
So unlike Lahren's $108-a-year estimate, paying for birth control without insurance often costs many women more than $1,300 per year — on top of having to cover the cost of a doctor's visit. Better luck next time, Tammy.