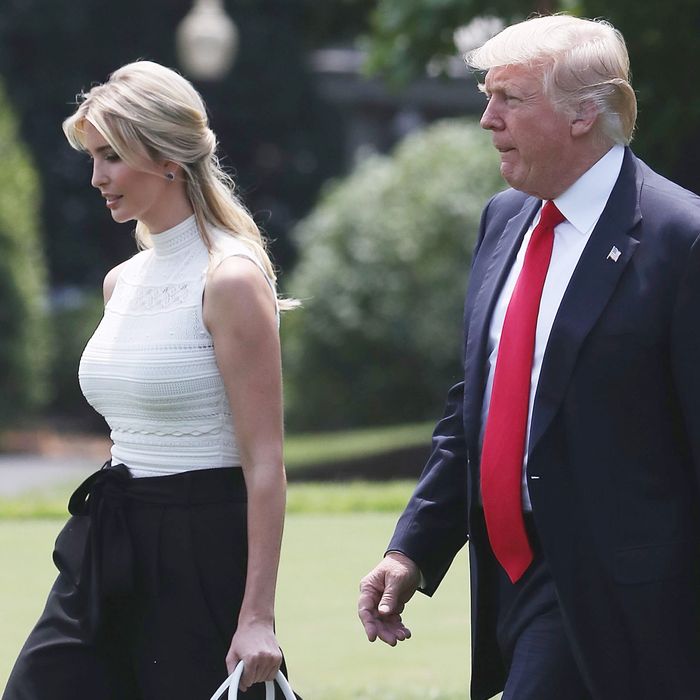 When President Obama established the White House Council on Women and Girls, in 2009, its aim was to make sure all policy proposals took gender equity into account, and to coordinate a response to the unique challenges faced by women and girls in the U.S. Now, according to a Politico report, the Trump administration will likely dismantle the office, leaving all "women's issues" in the hands of the First Daughter.
When President Trump was elected, his administration considered keeping the office, Politico notes. At one time Kellyanne Conway said she expected to oversee it, and in April White House spokeswoman Hope Hicks said Ivanka and Dina Powell — her assistant, who in March was named deputy national security adviser for strategy — were conducting an internal review to decide how to handle issues that the office dealt with. But that was supposed to be done at the end of May, and in mid-June "the status of the office was still in question."
Asked about its status, Hicks said the White House "is evaluating the best positioning of this office going forward (and other legacy Obama offices)" and pointed to Ivanka's initiatives for women in STEM and her push for paid family leave.
But Tina Tchen, the former director of Obama's White House Council on Women and Girls, said the fact that Trump isn't prioritizing the office says a lot. "It shows the priority you place on the issues surrounding women and girls," she said, adding, "They have business councils and other councils …that's how you demonstrate to everyone in the agencies where their efforts should be focused."
Outside women's groups that used to have a direct line to the office said the chain of communication has gone dead. "I actually don't know anyone who has been in touch with the White House," said Terry O'Neill, president of the National Organization for Women. "I see no evidence — zero — that Donald Trump has anyone in his orbit to advocate for women and girls."
Women's issues have long been a touchy subject for the current president, who as recently as yesterday came under fire for his sexist comments about Morning Joe host Mika Brzezinski. "This is not okay," Kansas representative Lynn Jenkins said of Trump's comments. "We should be working to empower women." If only there was an office for that.