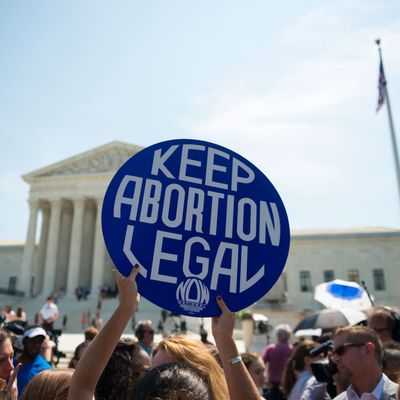 Pro-choice supporters celebrate in front of the U.S. Supreme Court.
Photo: Joel Carillet/Getty Images
The Trump administration has made its stance on reproductive rights pretty clear. During his first week in office, the president reinstated a rule that basically forces international nongovernmental organizations to choose between offering women around the world safe abortions or continuing to receive funds from the U.S. Months later, the White House expanded that rule, stripping even more money from global organizations that offer abortion. And on Thursday, the U.S. representative to the Human Rights Council refused to back a resolution condemning abuse and discrimination of women because it made a commitment to safe abortion.
The resolution expresses "outrage at the persistence and pervasiveness of all forms of violence against women and girls worldwide," and calls on member countries to curb it. But it also includes a paragraph urging countries to make sure their health-care systems provide "quality comprehensive sexual and reproductive health care services," including "safe abortion where such services are permitted by national law."
U.S. representative Jason Mack said the White House agreed with the "spirit" of the resolution, but that it couldn't back the paragraph about reproductive health. "The United States fully supports the principle of voluntary choice regarding maternal and child health and family planning," he said. But he went on to say that the U.S. does "not recognize abortion as a method of family planning, nor do we support abortion in our reproductive health assistance."
According to the Guardian, he also piped up when other resolutions were discussed that clash with stances the Trump administration has taken, such as one on the need to protect migrants, and one calling for an examination of the impact climate change is having on human rights. The latter text, he said, "raises some serious concerns for the United States." We're sure that went over well.