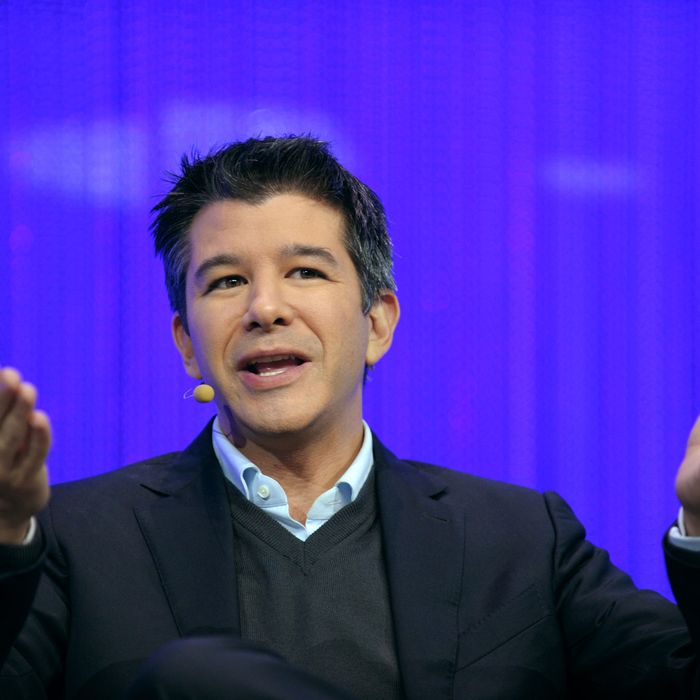 Uber CEO Travis Kalanick.
Photo: Eric Piermont/AFP/Getty Images
As Uber tries to reinvent its toxic corporate culture, a reminder of just how bad things were came back to haunt CEO Travis Kalanick and his "Uberettos" (the internal word for die-hard Uber employees) today. In an email from 2013, obtained by Recode, Kalanick laid out rules for the company's planned celebration in Miami, which includes guidelines for having sex with co-workers; wink-wink, nudge-nudge reminders about drug use; and a warning from Kalanick to "read this or I'll kick your ass."
The email, sent in 2014, when the company was still just 400 employees (it now employees nearly 9,000 workers), reads more like something that would be sent to Alpha Sigma Phi frat brothers before a weekend trip than a companywide email.
"Do not have sex with another employee UNLESS a) you have asked that person for that privilege and they have responded with an emphatic 'YES! I will have sex with you' AND b) the two (or more) of you do not work in the same chain of command," wrote Kalanick. "Yes, that means that Travis will be celibate on this trip. #CEOLife #FML." The burdens of leadership.
Other gems include:
"We do not have a budget to bail anyone out of jail. Don't be that guy. #CLM." (CLM is an acronym for "career-limiting move.")
"Do not throw large kegs off of tall buildings. Please talk to [former Uber software engineer] Ryan McKillen and [current director of engineering] Amos Barreto for specific insights on this topic."
"There will be a $200 puke charge for any public displays on the Shore Club premises. Shore Club will be required to send pictures as proof."
"Drugs and narcotics will not be tolerated unless you have the appropriate medicinal licensing." (Florida did not have medical-marijuana laws in 2013.)
"If you haven't figured it out yet, Miami's transportation sucks ass. #Slang [i.e., pitch] as many Miamians, drivers, influencers as you can as passionately as you can and let them know why Uber will make this great city an even better place. Every slang matters. #MiamiNeedsUber."
The email was leaked just days after Uber announced it was firing 20 employees for sexual harassment and had investigated at least 215 claims of it within the company. Even more troubling, it also fired a separate executive who obtained medical records of a woman who accused her Uber driver in India of raping her, and then shared those medical records with other executives — including Kalanick — who believed that the rape victim was making her story up as a way to discredit Uber in the Indian marketplace. The executive responsible was not fired until Recode reached out to the company and Uber realized a story would be in the press shortly.
In the middle of this maelstrom, Kalanick is attempting to find his inner peace. To do that, he has been taking over the company's lactation rooms, set aside for new mothers to pump milk, to meditate. #CEOLife.