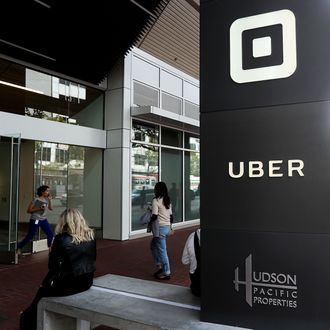 Photo: Justin Sullivan/Getty Images
Fresh off of dismissing 20 people for sexually inappropriate work conduct, yet another emblematic case of Uber's unchecked, "win at all costs" corporate environment has surfaced. Recode is reporting that Eric Alexander, then president of business in Asia Pacific, obtained the medical records of an Indian woman raped by an Uber driver in 2014, and shared them with other leadership members. Following the assault, Uber was banned in Delhi until June of 2015.
According to Recode, "While the company was publicly apologetic, some executives apparently had trouble believing that the incident was entirely true, sources said, including Alexander." Alexander obtained the medical records while in India, and shared them with CEO Travis Kalanick and Emil Michael, Uber's VP of business.
None of those three are medical professionals, but used the report to try to poke holes in the victim's story. They theorized that Ola, an Uber competitor in India, was behind the incident.
It is worth noting that Alexander was not one of the 20 people dismissed yesterday as part of an investigation by the law firm Perkins Coie, though the incident was among the 215 investigated. He was with the company yesterday — until Recode's story was imminent. In the face of overwhelming rot at the core of the company, a great effort is still being made to insulate leadership from consequences. It is insane that Travis Kalanick still has a job.