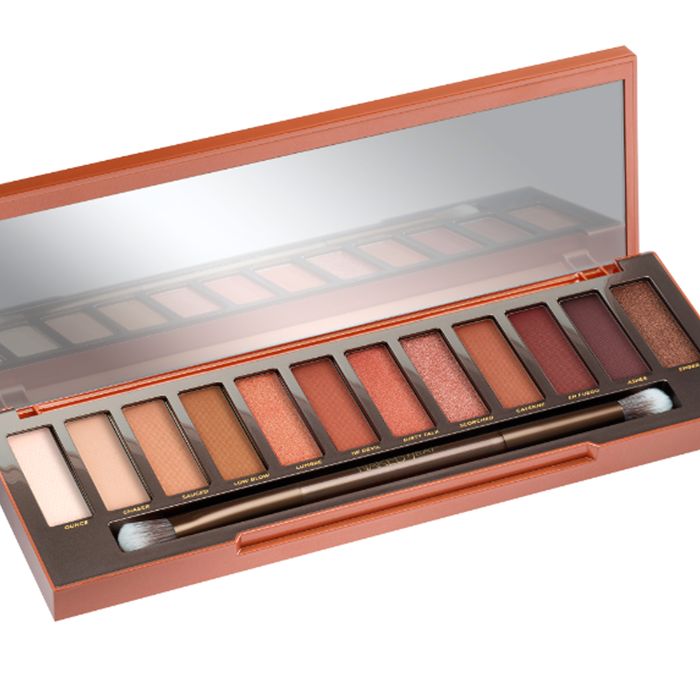 Urban Decay Naked Heat palette.
I was 18 when I was introduced to the concept of a "bronzer." The clay-colored powder arrived on my doorstep as a "gift with purchase," and a note submerged in the brown parcel cajoled me into giving it a try. Before then I did not know that a face could be "cool" and that a product with glints of red pigment could calibrate its temperature into something "warm." It didn't occur to me that a few whirls of rusty powder could awaken my complexion to look like summer: golden, effervescent, plump with life.
More people are buying makeup now than ever before. And while foundations that perfect skin and highlighters that catapult luminosity are an easy sell, bloated eye-shadow palettes are much more complicated. Folks are finicky and a 12-shade eye-shadow range can easily introduce 12 different reasons for condemnation. But Urban Decay's new Naked Heat compact bucks the idea that large eye-shadow palettes are congested with unusable shades. Each color deposits a warm swatch that feels lively and radically necessary, as my first bronzer did. An eye-shadow palette so unquestionably advantageous — practical, productive, and fun — hasn't touched a store shelf in years.
Naked Heat is the latest member of the Naked collection. The first Naked palette launched in 2010, and its wildly popular success has generated seven eye-shadow-palette spawns (for a while, a Naked palette was being sold every second), in addition to a foundation, a concealer, lip gloss, and just about anything else that twinkles within the constellation of cosmetics. You'll notice that each color within Naked Heat is fused with a flash of red. Even the palette's lighter shades, like "Ounce" and "Chaser" — two matte beiges — lean warm. The warm tones sound strange in theory, but they bring about a brightness in your eyes that's subtler than a poppy yellow or peach, for example, but equally transformative.
Most of Naked Heat's 12 pigment-rich shades are matte. "Sauced" and "Low Blow" are close to a caramel hue, "He Devil," "Cayenne," and "En Fuego" are akin to the color of red clay, with a pigment that grows in intensity with each subsequent shade, and "Ashes" reminds me of a milk-chocolate bar that's been dusted with chili powder. I found that these matte shades serve an ideal purpose as a base color, and swept in the crease of the eyes.
The palette's four shimmery shades — "Lumbre," "Dirty Talk," "Scorched," and "Ember" — resemble copper, two degrees of brick red, and burnt chestnut, respectively, and I like to plop those colors in the middle of my eyelid for a precise amount of glimmer. Such a thing isn't difficult, by the way, considering the palette's improved dual-ended brush sweeps, delivers, and blends each color with unmitigated ease.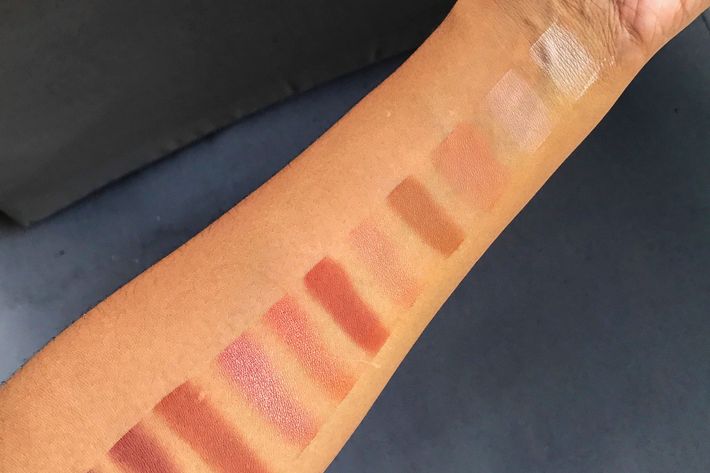 When Urban Decay released Naked Heat on its site today, it nearly instantly sold out. Your chances for nabbing your own aren't totally gone. You can preorder the palette on Sephora.com ahead of its July 10 release online, or if you want to play a riskier game, you can sign up for stock alerts via Urban Decay's site. Just find a way to get your hands on it. You won't realize that you need a red-tone palette of neutrals until you try Heat. And then you'll wonder how you ever managed without.
If you buy something through our links, New York may earn an affiliate commission.