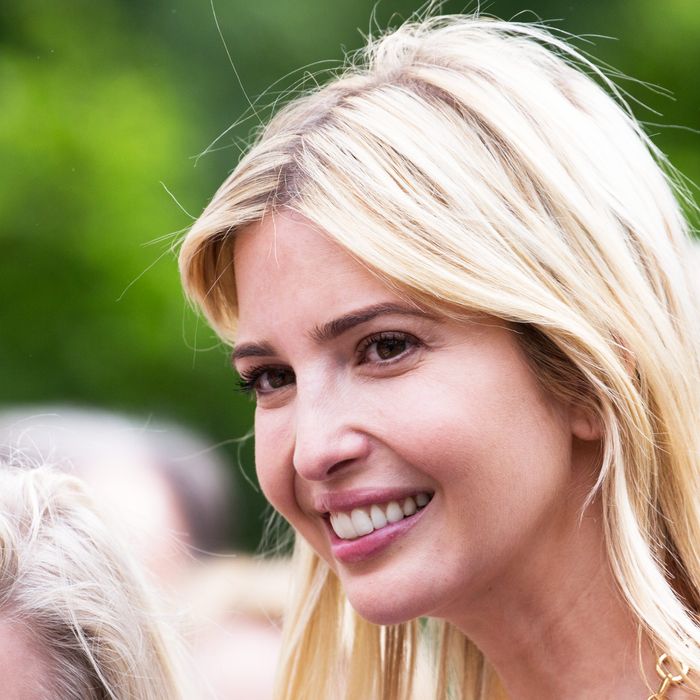 Activists were arrested in China for investigating factories where Ivanka Trump–brand shoes are made.
Photo: Cheriss May/NurPhoto via Getty Images
Last week, news broke that three activists who'd been investigating labor practices at a factory where Ivanka Trump shoes are made had been detained or gone missing. One man, Hua Haifeng, was arrested and accused of illegal surveillance, but two others — Li Zhao and Su Heng — are still unaccounted for. So far, Ivanka Trump's brand has declined to issue a statement on the situation, but on Tuesday the U.S. State Department called on China to release all three activists, The Guardian reports.
"We urge China to release them immediately and otherwise afford them the judicial and fair trial protections to which they are entitled," State Department spokeswoman Alicia Edwards said in a statement. She added that labor activists are "crucial" for tipping U.S. employers off about conditions in Chinese factories, but she didn't say whether U.S. officials had formally raised the case with China.
According to The Guardian, the three activists — who were employed by New York–based NGO China Labor Watch — were preparing to issue a damning report about conditions in the factories, which produce a few hundred thousand of the Ivanka Trump's annual 8 million pairs of shoes. Charges included paying workers below the legal minimum wage, verbally abusing workers, and "violation of women's rights."
But with Hua currently imprisoned and Zhao and Heng presumed to be in police custody, it's unclear whether their report will be published. Chinese police reportedly kept Hua's lawyer from visiting him in the detention center where he's being held, saying he'd "met with an accident in his cell" and wouldn't be accessible until after his arraignment.
This isn't the first time that factories where the First Daughter's brand is produced have been accused of illegal labor practices — a Fair Labor Association inspection back in April found that another Chinese factory used by Trump's licensing partner was guilty of 24 labor violations, among them underpaying its workers and failing to give them adequate safety training.