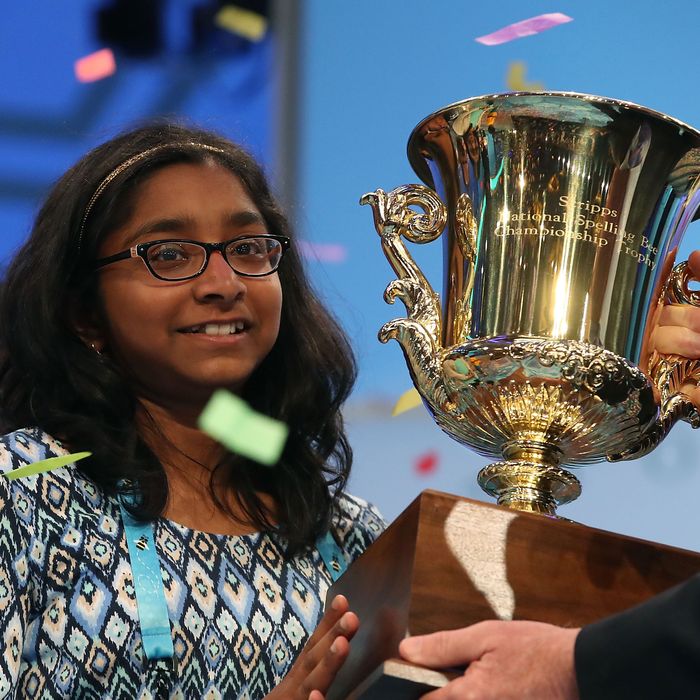 Ananya Vinay.
Photo: Mark Wilson/Getty Images
On Thursday, 12-year-old Ananya Vinay spelled the word marocain to win the 2017 Scripps National Spelling Bee, though she arguably could have also taken home an award for being extremely chill as well.
As the New York Times reports, Vinay sailed through the first 36 rounds of the spelling competition — correctly figuring out words we've never even heard of before, like konditorei and heiligenschein — before she even entered Thursday's championship round. By the time she was asked to spell marocain, Vinay was already an old pro, and clearly not about to waver under the pressure.
Even though she knew countless people were tuning in — and even though marocain was all that stood between her and the trophy — Vinay didn't do what we would have done (which, of course, is curl up in a ball and sing "Amazing Grace" as we rock back and forth in panic). Instead, she simply (and expressionlessly) asked for the word's definition — it's a piece of ribbed crêpe fabric — as well as its parts of speech and language of origin. Then she paused for a few seconds before spelling the word with ease. And when she realized she'd won, Vinay continued to stay as chill as possible.
The young girl — who, the Times noted, remained expressionless, save for a slight lift in one cheek — stood still on the stage until her father rushed up and gave her a big hug. It wasn't until her mother and younger brother went onstage, too, that Vinay started to show just how excited she was about her truly impressive feat.
Next time we find ourselves under pressure, we'll definitely try to channel Vinya's chill vibes.