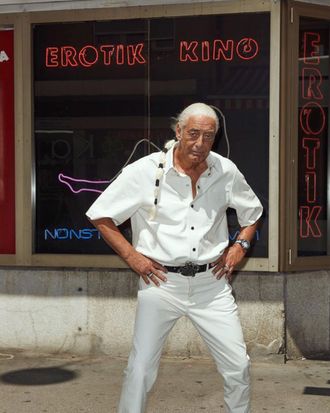 Photo: Courtesy of Instagram/vetements_official
On Monday, Vetements rolled out imagery for its spring/summer 2018 menswear collection, where normal people were photographed in Zurich by Demna Gvasalia in place of a traditional runway show. The theme is "posing." In keeping with tradition, here are some micro-fictions based on the designer's newest lookbook.
Tomas didn't know where he was going in life — a fact that brought his parents great grief — but one thing he did know was the right way to hold a map.
No matter how much they wanted to believe it, this baby did not belong to them. No matter how hard this baby tried, he could not escape.
A wise man once told Rolph that the real secret to success was acquiring property in the New Mexican desert and flipping black stallions like they were real estate. Rolph never did buy those horses, but he did cut the sleeves off of both of his jean jackets and bought a bag full of loose rice. Rolph could say with near certainty that this was as close to success as he was going to get.
When Damien's husband asked how he got a hole in his new work shirt, he didn't have much of an answer. "But the summers are long and hot," he replied instead. "And you know the sweatiest part of my body is my left shoulder blade." Mark took a puff of a cigarette and turned back to his reading. Quietly, Damien took to the study, where he cut another hole, then another.
"HAS ANYONE SEEN MY HANDS," Trevor screamed at a nearby outdoor café. "I BELIEVE I'VE MISPLACED MY HANDS." A street-style photographer who had been lingering asked for a shot. Pausing his momentary hysteria, Trevor obliged.
"Oh, I'm sorry, I'm in a hurry," Lenny told his line-dancing teacher when they ran into each other by the bike rack at the abandoned airport. "My dermatologist recommends I eat a bag of 12 oranges once a day before dusk, and it's already 5 p.m. I can't risk another breakout."
Switzerland's hottest rap duo is Jan and Jan, a brother-sister pair whose favorite song topics include, but are not limited to, berry jam, tube socks, water parks, and feuds between famous cartoon characters. Jan is the more popular one, but Jan is the quiet heartthrob. The studio apartment they share is empty, except for a garlic press and four neon-green Eames chairs.
"This is my power pose," Riley said. That was all he said, and frankly, all he needed to say.