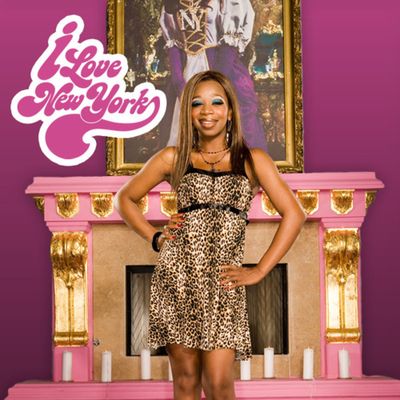 I Love New York
.
Photo: Courtesy of VH1
On May 22, 2017, Rachel Lindsay stepped out from a limousine and became the first black woman to receive the supplications of 25 men on network television. It's welcome change, and one that is long overdue; but while Rachel may be the first black Bachelorette of the ABC franchise, she is not the first black Bachelorette of our hearts. That is a title that is reserved for the notorious Tiffany "New York" Pollard.
For those who are unfamiliar, Tiffany Pollard (of the Utica, New York, Pollards) made her grand entrance into the reality-show cannon in 2006 via VH1's cult-classic dating game show, Flavor of Love, starring Public Enemy's Flavor Flav as the bachelor. As one of several women competing for Flav's affection, Pollard brazenly declared early on that she would be the last woman standing, earning the nickname "New York" both for her hometown as well as her distinctly "uptown" demeanor. In short form, New York's wit and brashness quickly made her a fan favorite with viewers thanks to lines like "I never was a child — soon as I popped out of my mom, I was in the know." New York ran through two seasons of the show, then turned her ultimate rejection into a franchise of her own — I Love New York, which ran for a magical two seasons on VH1 (and is still available on Hulu).
ILNY was a dating competition with Pollard calling the shots. It's difficult to explain the pure wondrousness of those 25 episodes for those who didn't watch in real time: Every week a bevy of men from all walks of life competed for the adulation of a regular black girl from around the way. She made no qualms about making it clear that the men were there for her objectification, from lasciviously commenting on one's bulge to letting another know he looked like "a pinto bean with eyes." She could tell a man that she looked forward to treating him as a plaything in the same breath as she expressed a desire for a "real thug" straight out of Destiny's Child's "Soldier." Pollard was also prone to giving them nicknames of her own such as Token, Whiteboy — my personal favorite — Rico, and Punk, who is now more commonly known as David Otunga, the fiancee of Jennifer Hudson.
Whereas the Bachelor franchise portrays a sanitized and polished ideal of romantic fantasy, I Love New York leaned heavily into the farce of courtship. The men cooked for Pollard. They scrubbed the house. They drew up business plans to market their financial value. There was even a beauty-pageant competition, replete with a swimsuit contest and talent competition! Episode after episode featured men embodying the worst of the traits that are so commonly attributed to black women on corresponding reality programs — cattiness, dramatics, and underhanded antics for the sake of camera time and Pollard's adoration. And instead of roses, she gave chains.
But the significance of New York's run lies beyond her show's entertainment value. For two years, a regular-shmegular black woman was adored for being shamelessly herself without caveats or compromises. There was no political correctness or need for genteel demurs as someone proudly proclaims they would "like to go black and never go back," as Rachel Lindsay recently had to endure (in fact, early on in the show Pollard ardently expressed her disapproval of a contestant calling her his little negrita). What made Pollard so loved was the fact that she spoke her mind. Proclamations such as, "When I make these motherfuckers cum I do it with my heart!" are the sort of unadulterated, bona fide emotion that both entertained and bonded her audience to her journey for love. The varnish that seems to be a prerequisite to be a network darling, especially a black one (Rachel is not only full of girl-next-door appeal, but a lawyer at a top Dallas law firm) was absent on ILNY, and the show was all the better for it.
As a fan of the Bachelor franchise, I am looking forward to enjoying Rachel's current season — if the first few episodes are any indication, there will be some compelling narratives ahead for Rachel and her suitors to contend with. Rachel's combination of poise and girl-next-door appeal makes her a perfect fit for a franchise that has long been marred by allegations of lack of diversity — and while she may not tell anyone to "take the high road all the way to hell, bitch" à la Pollard, she has made it very clear that she did not sign up for this endeavor to be embarrassed.
While I await the next episode of this season-long romance-novel, however, I will continue to tip my hat to the first black woman of the reality-show era to set her own terms in the search for love, and thank God for my monthly Hulu subscription that allows me to revisit this time-capsule moment, chains and all.