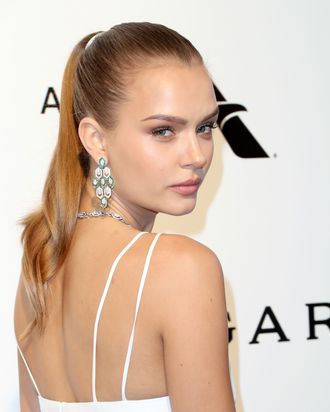 Josephine Skriver.
Photo: Frederick M. Brown/Getty Images
Josephine Skriver lives a jet-setting life — like, four-red-eye-flights-in-a-week kind of jet-setting life. The Danish Victoria's Secret Angel caught up with the Cut to talk about her weight-lifting milestones, her favorite face masks for long flights, and how much she loves water and coconut oil.
How I start my mornings: If my body is like, dead tired or sick I might take a break, but most mornings I work out first thing. A few years back, I made a conscious decision to be a morning-workout person because I had so many excuses every time after work. I don't ask myself, "Oh do I need to work out today?" It's just part of my morning routine. You go and you get it done and your day is started. It was hard. It was a good two to three months of just hating waking up that early. My day is just so much more productive now. There are so many benefits to a morning workout that overshadow not wanting to work out.
I'm such a breakfast person. I sometimes like to have two breakfasts and no lunch. I love to start, especially after a big workout, with protein and a little bit of carbs. On the go, sometimes it's nice to have oatmeal packs. I love eggs and veggies in the morning but sometimes it's yogurt and granola.
How I sweat: I've always been active. But it's been a long process to figure out what works for me. What worked was lifting weights. It did wonders for my body, I really notice how it has changed the shape. I used to do way more cardio. You can really see the benefits of, Oh I can now lift this much, and it's empowering. I've gotten to the point where I can squat my own body weight and I'm like, Damn yes! You feel so strong, especially as a girl you're like, You can't tell me I can't do this. When I did my first two pull-ups in a row, that was a great moment for me. My legs have always been strong, but my arms aren't. I used to play soccer and everything was leg-based growing up, so I've never been able to do a pull-up or a push-up when I was younger. When I did two pull-ups on a bar and could lift my head above it, I was like, Okay, now I belong in a gym. I remember pulling myself up and thinking, Oh no, I'm actually doing this I'm actually moving.
To me, wellness means: Wellness is the mind more than anything, and feeling good on every level — mentally and physically. It's not just about being healthy and working out, but it's really a 360 thing. I've always thought my body was something you get one shot at so I better treat it well.
How wellness has changed for me: It's becoming more of a priority for me. I'm much more conscious about taking care of my skin and it's part of my job to be in good shape and look the best that I can at all times. My body is part of my job and I better have the best product. I need to show up and be the best that I can be for the customer or the client. If you just eat junk, it's awesome and it makes you happy, but you don't have enough energy to handle an 18- or 20-hour day or four red-eyes in a week.
On eating and warding off "hanger": I need to have small snacks, like anything that's dry that you can carry on a plane — nut bars, protein bars, or instant-oatmeal packets. I try to have some fruit in my bag. I tend to get super "hangry" if I don't. I'm like a Snicker's commercial. I need to have something — if it goes too long I get "hangry."
On "treat days": I always hate the word "cheat meal." My grandma has always been like, "If you enjoy it when you eat it's going to go to the right places. But the second you're guilty about it, you're going to see it places you don't want." Now I call it a "treat day" — I treat myself. Once in a while you gotta eat something good — everything from pizza to burgers. And I'm a huge fan of chocolate.
How I take care of my skin: I wash my face in the morning and evening with a light scrub and then I just put on moisturizing cream. I change with them, I haven't found one that's my favorite but they all kind of do the job. When you're a model, you have stuff on your face all the time.
My biggest wellness struggle: Drinking enough water. I had a period where I was drinking way too much coffee, tea, or soda, but my trainer said, "You have to stay hydrated, it's good for your skin, it's good for sleep." Getting through those eight waters a day is a struggle but now it's a habit. I'm constantly thirsty now.
My best wellness advice: "Don't be so hard on yourself." Set goals you know you can reach. Just because you don't reach it, doesn't mean it's a failure. Being kind to yourself means everything. My favorite thing to do in the morning is spending the first five minutes not picking up my phone. I wouldn't say meditating but I remind myself what I'm grateful for, people in my life, and why I'm happy. There's so much hate out there, there's so many girls now who are like, "Oh I don't love this." Instead of focusing on things you wish you could change, I always try to think like talk positively to myself.
I love individual packets of coconut oil that you can take your makeup off with. They're perfect on the go. It's organic and raw so it doesn't feel like you're adding a ton of chemicals to your face.
I'm a big fan of these masks and using then when you're on a plane. It's good for de-puffing before work the next morning. I try to put one of those on once a week to truly rehydrate my skin.
I always try to make sure to have a face mist — I like this Caudalie one. When I put it on, I immediately calm down.