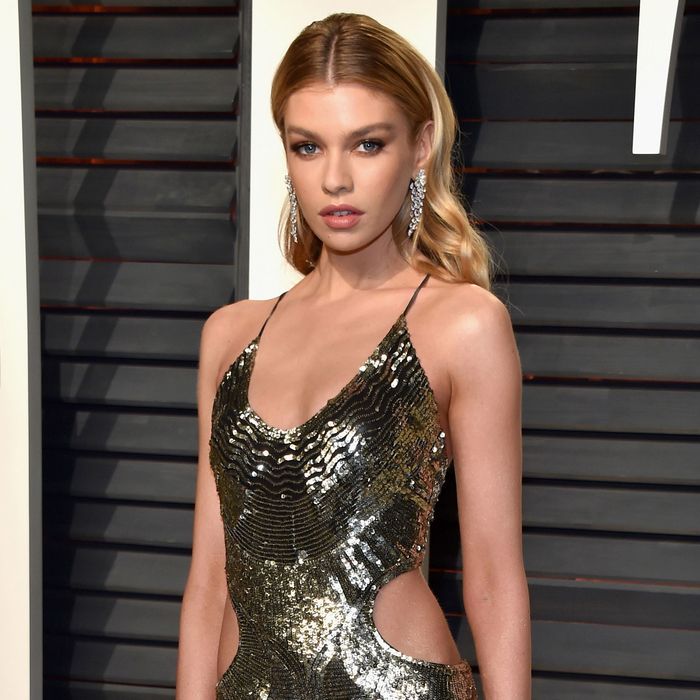 Stella Maxwell.
Photo: Pascal Le Segretain/Getty Images
While she's best known as a Victoria's Secret Angel (the first one from Ireland), 27-year-old Stella Maxwell has become a top-tier model — she's worked with Moschino, Roberto Cavalli, Balmain, and Alexander McQueen. She's also been ranked number one on Maxim's "Hot 100" list and is reportedly dating Kristen Stewart. For the release of Victoria's Secret new Bombshell perfume, Maxwell talked to the Cut about the importance of working out in the sun and her addiction to eye drops.
How I start my mornings: I can't really wake up without having a shower to start my day. I'll have breakfast, which is usually oatmeal or scrambled eggs and avocado, maybe some salmon. Depending if I'm working or not, either I'll go work out and then maybe have a protein shake — I'll make one with protein powder and some almond milk. Sometimes I'll add some chia seeds and cinnamon, just to make it seem kind of pleasant. Other times if I am not working, I'll be shooting the whole day. It's pretty exciting shooting. You're stimulated and you're moving a lot. It's very physical.
I'm also addicted to eye drops. For real, I wake up and always use them. It's typically the minty ones, the ones that kind of sting. You buy them in Japanese stores and Korean stores. I think there's chili or something in them, and it makes you really wake up.
How I sweat: I do a bit of everything. It's good for your body not to get too used to the same routine. I have a trainer I see regularly here in L.A. I also like to do a lot of outdoor exercise. I think that's a more special experience, especially if you can go with your friends — hiking, even going to the beach for the day and swimming, or maybe some surfing.
When I'm traveling, I always make sure I pack all my Victoria's Sport. I bring my yoga mat sometimes with me. Yoga is a great thing to do because you can just practice it by yourself in your hotel. My friend showed me how to do it the first time. She had a private class at her house and I joined in. It's an hour of time when you're focusing on your breathing and your body. You take yourself out of whatever is going on in your life and spend that time focusing on your body and your thoughts.
To me, wellness means: Wellness is associated with happiness. When you're happy, you're feeling good in your mind and body. That ties into being healthy, eating well, and exercising regularly. It also ties into being excited about things — like getting up in the morning and having a healthy breakfast. Having a lot of friends and family around you — that's all a part of wellness.
I also take wellness pills all the time. I think they boost your immune system and keep you on top of your game. They're all-natural vitamins.
How wellness has changed for me: I've always taken care of myself since I was young. I've always been active and eaten really well. I don't think it's changed much. I've just gotten more physical as I've gotten older.
My summer wellness and beauty tips: I try to go for regular facials because it's important to cleanse your skin and have a professional look at it. Getting a lot of vitamin D and being outside in the sun is good, as is eating a well-balanced diet.
I try to wear a lot less makeup because it's hot and I'm sweating. I use coconut oil. It's quite close to the natural oils that are in your skin so it's good to use when you're feeling a little dry on the plane, or you can use it in your hair, and all over your body.
My biggest wellness struggle: I don't really have any struggles with wellness. It's important to feed your mind as well as your body. If one day you don't feel like going to the gym, it's not the end of the world if you go have a coffee with your friend. It's a different kind of wellness.
My best wellness advice: Drink water and sleep a lot. I sleep a lot. I make sure I get enough sleep. I try to get as much as I can. If I have some time on a plane or after work, I'll knuckle down and read a book or watch a movie and that helps me unwind to go to sleep.
Three products I love:
They're great because they're clear and coat your eyes. They just wake me up, I don't know why, but I do just one drop every morning. It's like my alternative to caffeine.
It's really thick, but it is good. I have drier skin so it works for me, but may not be for everyone.
I found out about these masks on shoots. They really hydrate my skin.