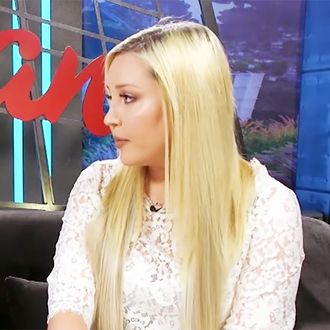 Amanda Bynes on Good Morning America.
Former child actress Amanda Bynes is happy and sober and talking to a news outlet for the first time in four years: Good Morning America aired a "Hollyscoop" interview with Bynes on Friday. In it, the iconic star of The Amanda Show reveals that she has been taking fashion classes at FIDM in Los Angeles and that she has been sober for three years. "I hike, I go spinning — take spinning classes — and I feed the homeless," she said, of her daily activities.
Bynes has led a mostly private life for the last few years after facing multiple drinking-related arrests and mental-health issues in her mid-to-late 20s. Now 31, the former actress says she would like to be on television again. "I want to do TV, maybe a few guest spots on some shows that I'm a fan of and maybe another TV show that I'm the star of it," she said. She also expressed interest in creating a fashion line.
Update, 12:41 p.m.: Hollyscoop has now released the full interview with Bynes on YouTube, which is great, because it shows Bynes still has her sense of humor. When interviewer Diana Madison asked Bynes about her infamous 2013 tweet, in which she asked Drake to "murder" her vagina, Bynes shrugged. "I actually wasn't being insincere," she said. "I was like saying, 'Murder my vagina!' I was serious, but I was also on drugs. So that was my way of saying like, 'Let's do it man,' but I was on drugs and trying to be hilarious." Amen.