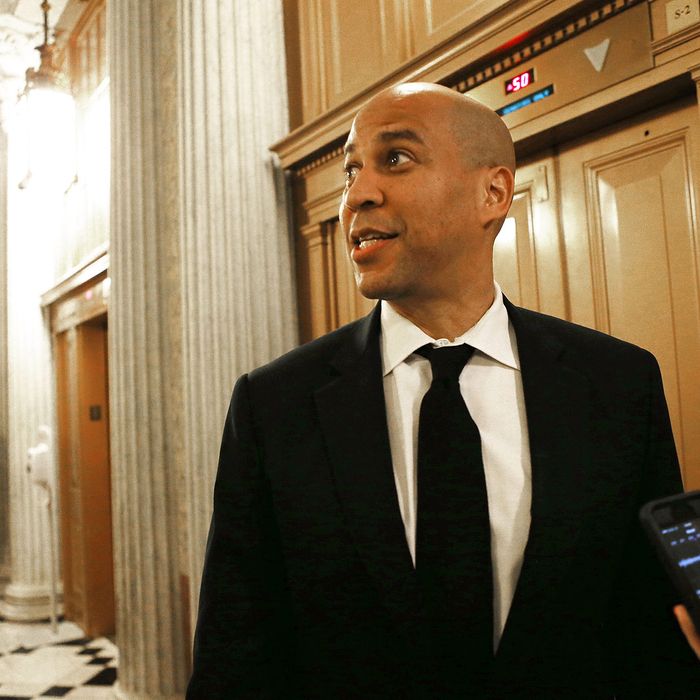 Cory Booker held a Facebook Live session on the Capitol steps last night that turned into a small rally.
Photo: 2017 Getty Images
On Monday night, Senator Cory Booker held a spontaneous Facebook Live session on the steps of the U.S. Capitol with some of his co-workers: Senators Chuck Schumer, Chris Murphy, and Kirsten Gillibrand, among others. The group gathered to talk about the Senate's new health-care bill, which Majority Leader Mitch McConnell is expected to introduce on the Senate floor; whether or not it gets passed depends on if he can sway his fellow Republicans.
But what started as a chat with some constituents ballooned into an impromptu rally, with onlookers cheering and chanting as Democratic senators took turns denouncing the bill. The whole thing culminated with Booker delivering one of his characteristic showstopping speeches based on wording in the Declaration of Independence.
"[Our] founding fathers were ingenious; they put forth an idea," he told the crowd. "It was an idea that we need each other, that we as a nation could not make it unless we took care of each other. It says, 'We must mutually pledge to each other our lives, our fortunes, and our sacred honor.' I'll tell you right now: This craven, evil bill is not about going together — it's about leaving people behind," he continued. "Now we have a decision to make:
What will we do?" Watch his entire speech below: