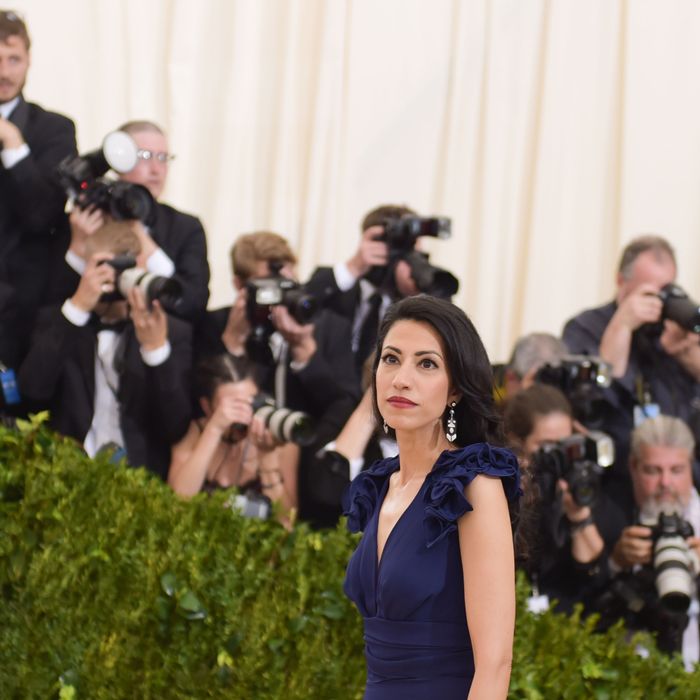 Huma Abedin.
Photo: J. Kempin/Getty Images
There's a scene in the 2016 documentary Weiner in which disgraced ex-congressman Anthony Weiner explains his plan to make things right with his wife, Huma Abedin. At this point, Weiner had admitted to the first round of sexting (that would be the congressional gym photos — "Carlos Danger" surfaces during the making of the film.) In an on-camera interview with the filmmaker, Weiner says: "She was very eager to get her life back, and I was eager to clean up the mess that I had made for her. Running for mayor was the straightest line to do it."
The "straightest line" to repairing his marriage, according to Weiner, didn't involve boilerplate fixes like couples therapy, or the scheduling of regular awkward and dimly lit date nights. For Weiner, redemption didn't even involve not ​texting filthy photographs of himself to women he'd met online. Only becoming mayor of the largest city in America could heal the wounds because for Abedin — in her husband's eyes — there could be no greater apology than to proffer big, publicly held power. Takeaways from the film are that Huma Abedin either has an otherworldly capacity for forgiveness, or an outsized capacity for cold, political calculation when her proximity to power is at stake.
As confessional as Weiner is — sobbing, groveling, and even gleefully bearing witness to his own monumental capacity for self-immolation — Huma is only ever more inscrutable. She is a master of self-presentation, favoring the type of well-tailored, feminine work-wear worn by her most public friend, Anna Wintour, and very red, very opaque lipstick. Everything about the way Abedin looks communicates a posture of togetherness, even when the world around her throbs with humiliation and defeat, and so she has become the subject of much speculation. What is this woman thinking? What is going on? How could someone who wears Oscar de la Renta that well put up with such a clown? Is it that her composure is more pronounced in contrast to his flailing, or does the fact of her baffling marriage just make her more intriguing?
It is certainly true that understanding the negotiations, loyalties, compromises, the fragile emotional fabric of someone else's marriage, is fundamentally impossible. But not many marriages have been lived out as publicly, and with such drastic public consequence, as the union between Anthony Weiner and Huma Abedin. We've read the texts (there are many, but the nadir is certainly the one in which he tells a 15-year-old girl that he'd leave her "leaking and limping"), we've seen the pictures (erect in boxer shorts just inches from the couple's sleeping toddler son) – just one of the many unfortunate side effects of the email server investigation that arguably delivered us to Donald Trump.
The events of last month were newly baffling, even for a couple who has left casual observers scratching their heads for years. On the 19th​ of May, Weiner accepted a plea deal from the Manhattan U.S. Attorney's office: While the maximum possible sentence for his crimes is a fine of $250,000 plus ten years in prison, the terms of his deal suggest that he'll likely spend around two years in prison. (He will be sentenced on September 8.) As part of the deal, Weiner also agreed to register as a sex offender. On that same day, Abedin filed for divorce and put the expensive, three-bedroom apartment on Union Square on the market. ​Finally​, sighed onlookers.
Fast forward a few weeks: the divorce papers have yet to be served, the apartment is off the market, and Weiner has been spotted coming and going from that apartment at hours that indicate that he lives there once again, that his exile to his mother's spare Brooklyn bedroom is over. "Friends" suggest this has to do more with providing continuity to the couple's young son, for whom Weiner has been the main caretaker — his unemployability coincided neatly with the heat of the presidential campaign. But still. His behavior would seem to be a deal-breaker, even in the most modern or transactional of relationships. Now that what Weiner calls his "terrible judgment" has branded him a legally classified sex offender, he will face complicated laws governing his presence at places that serve children — for example, his son's school. What good is a main caretaker who's not legally allowed within 1,000 feet of a Kidville?
I met Weiner only once, in 1999, when I was the most junior of reporters at the (​very pre-Kushner) New York Observer, and he was the most junior of congressmen. We were both naïve and new to the game, but we muddled through. What I didn't write, but did report to my editors, was that something about him was just kind of … ​ick​. This had something to do with him showing me a picture of his girlfriend in a bathing suit, and also that he was an adult man — a ​congress​man — who sometimes used baby talk. But his passion for the job, his willingness to work harder than anyone else, was a winning combination — he won that first congressional election by fewer than 500 votes after personally knocking on pretty much every single door in the Rockaways. If he saw that someone was about to close the door in his face, he'd just shout "WEINER" loudly. And he's basically been shouting "WEINER" at all of us ever since. He's pathologically public, confessional, and immune to both self-censoring and humiliation, and she has played the yin to that yang. Professional, discreet, tasteful, opting to remain behind the scenes.
Lately, paparazzi photographs show Weiner wearing his wedding band around town. Abedin, who showed up at the CFDA Fashion Awards (a Wintour-fueled event) in a modest purple dress, has taken hers off. Her divorce attorney has postponed a hearing until the fall; he has yet to hire one. Whatever is going on, they're a long way from posing together on a red carpet, and Abedin — that would-be White House chief of staff, that would-be First Lady of New York City — just looks the keeper of a million secrets and stories of profound disappointment. She who is famous for appearing beside others looks, epically, alone.
In another scene from Weiner, Abedin introduces her husband at a fundraiser on the Upper East Side. She gives short, perfunctory, profoundly bland remarks having to do with how hard her husband will fight, and then she cedes the stage. "Wow," Weiner says, "that must have been like what it felt like for people seeing Charlie Chaplin in a talkie for the first time." He gets an awkward chuckle and Abedin, standing in the shadows, looks wounded. But Weiner then goes on, "if she were the candidate," he says, patronizingly, "I'd be getting crushed."
But Huma wasn't the candidate. Huma is never the candidate. When it seemed like Hilary was on a roll, when it seemed like she'd be moving to Washington, she was grateful to Weiner, telling Vogue, "I don't think I could do it if I didn't have the support system I have, if Anthony wasn't willing to be, essentially, a full-time dad" — as if his unemployment were a choice. As long as we've known about Abedin, it has been as the mostly silent companion to two of the most put-it-all-on-the-table figures in political life, two charismatic, complicated, deeply flawed people, people who have forced us to question our positions not about politics, but about morality and about sex. In pictures, Abedin is often photographed literally whispering in their complicated ears. Now that Hillary Clinton and Anthony Weiner appear to have exhausted the their capacity for reinvention, and with it, the possibilities for Huma's place on the sidelines, what comes next? It's hard not to anticipate the prospect of a solitary, independent Huma —someone taking that drive toward power into her own hands.