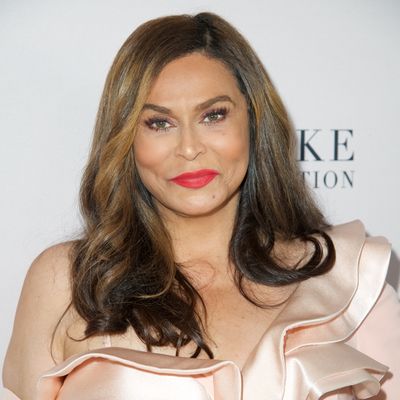 Photo: Earl Gibson III/Getty Images
News broke late Saturday night that Beyoncé had indeed given birth earlier in the week to twins, and lo, the internet was shook. On Sunday, TMZ reported that the twins — which, the report casually mentioned, are a boy and a girl — were born Monday and that they and Bey were still in the hospital because of a "minor issue" with the babies. Now come the conspiracy theories, spurred on by things like last night's Instagram update from Tina Knowles-Lawson and her trip to NYC.
Mama Tina posted an Instagram video of herself last night at a party in New York City with the message, "In New York for my friends son's wedding ! ❤️❤️God lets things happen in his time not ours! Dont try to rush him!" She'd posted other Instas from the trip that had drummed up buzz about Bey's due date, but the timing of this video and the cryptic message is making folks wonder if Bey did, in fact, give birth earlier this week or if the news stories (and that darn bouquet!) were a fake-out to distract us.
Then again, Beyoncé's father, Matthew Knowles, confirmed the news on Twitter, as did a People source. "Bey and Jay are thrilled and have started sharing the news with their family and closest friends," they reportedly said.
Who's to say? We'll know when Beyoncé wants us to know.