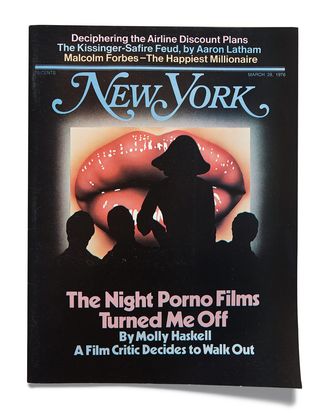 The March 29, 1976, cover of New York.
Forty-one years before Maureen O'Connor dove into Pornhub's user data for this issue's cover story, Molly Haskell found herself in her local movie theater on 86th Street, two seats away from a man who was enthusiastically masturbating. Onscreen was an X-rated movie titled Inserts, which had made its way into conventional distribution channels. We've all read stories about the gradual mainstreaming of porn, but the early 1970s were really when it first happened: The explicit films Deep Throat and I Am Curious (Yellow) had survived legal challenges to their exhibition, and the old definition of hard-core pornography established a decade earlier by Supreme Court Justice Potter Stewart — "I know it when I see it" — had begun to get, as Haskell says today, "blurrier and blurrier." Down on 42nd Street, porn and exploitation films had become standard fare. That was less true at her neighborhood local, but Inserts brought out the raincoat crowd, and she had, anticipating trouble, claimed a buffer seat next to her with her bag.
Before writing "The Night Porno Films Turned Me Off," Haskell had tried to look at this new breed of explicit movies as movies — that is, as a new avenue for interesting art. "My own long-cherished illusion was that some gifted filmmaker working in this marginal area would take advantage of his freedom and come through with the kind of imaginative handling of adult sensuality that had escaped the powers of the major American directors," she wrote. She and a couple of other critics had even gone to a conference, in New Orleans, of the Adult Film Association of America, an industry trade group, "in the hope of discovering some common ground for discussion." Nor was Haskell new to this subject. She had published From Reverence to Rape: The Treatment of Women in the Movies, a defining book about feminism and film, in 1974. (She was a critic at The Village Voice when she wrote this essay, then came to New York the next year, and subsequently went to Vogue and thence to full-time book authorship, most recently with Steven Spielberg: A Life in Films.)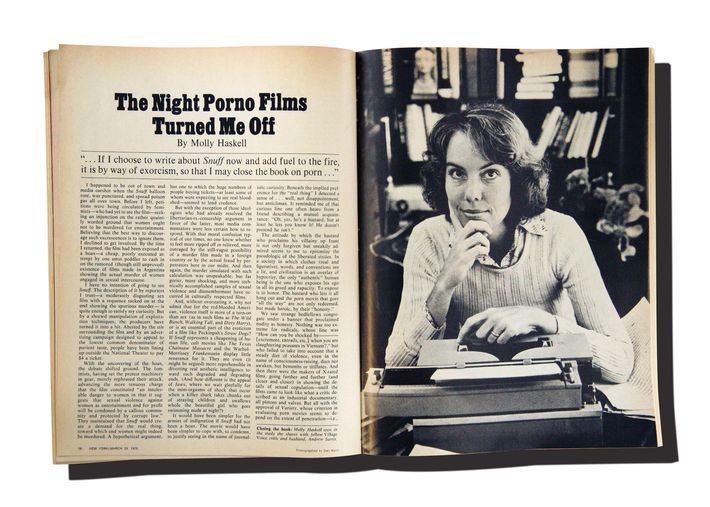 Although the idea of interesting porn was beguiling, the movies themselves, she had found, were both lousy as films and lousy to women. "When do we hold our ground," she asked, "and say 'Enough?!' Perhaps it is up to women — for men, our friends, are of the same sex as our abusers and our attackers, and rarely seem to understand the special ever-present nature of our vulnerability, and the degree to which any assault on women in films and plays is a reminder of that vulnerability and a warning."
Haskell is still thinking about this subject today, though she admits that film is not the place where a lot of it is playing out. "Maybe some of my thoughts are antiquated on whether it's violence against women," she says. "I think some of that role would have been taken over by video games. But it's become taboo to complain about violence. Even women critics who are sometimes horrified or put off or just bored by the violence of superhero movies can't come out and say it, or all the fanboys will jump on them. It's not cool to complain." Back then, if you didn't like seeing porn all over your neighborhood, people would roll their eyes about your Victorian hang-ups; now, if you don't like big superhero movies, they call you a cultural snob and an elitist. Hard to say which is a bigger insult.
Haskell experienced blowback too, but of a different kind: "I would go out to colleges and women would be practically booing me because I wasn't in this militant anti-pornography group — the Andrea Dworkin group, Women Against Pornography. They were just getting going — I think they were founded that year." The argument was, she suggests, a little like the current discussion of sex work. "There's no definitive feminist line. Feminists may set forth an agenda, but that's not the determining one. Or the definite one. That's why I don't call myself a feminist film critic — I'm a film critic first and then a feminist."
*This article appears in the June 12, 2017, issue of New York Magazine.