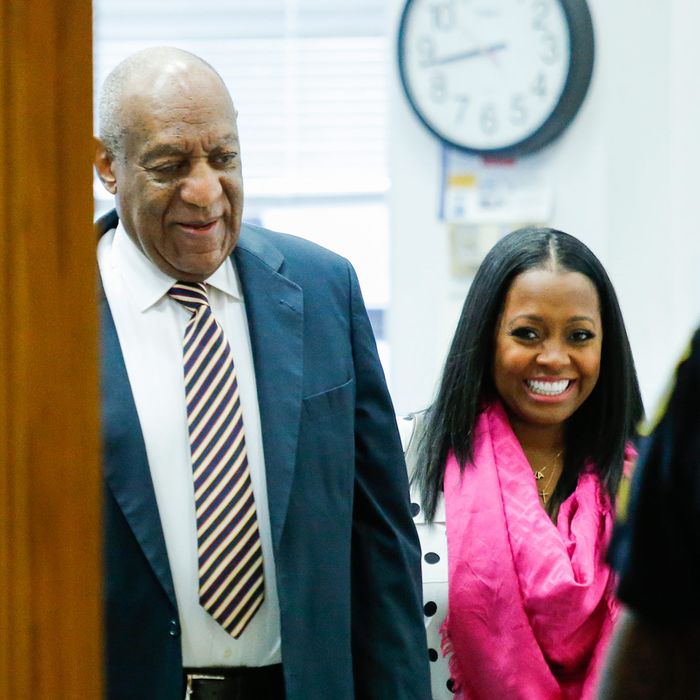 Keshia Knight Pulliam escorts Bill Cosby into the courtroom.
Photo: 2017 Getty Images
Last week, Bill Cosby was escorted to his sexual-assault trial by Keshia Knight Pulliam, who played his daughter, Rudy Huxtable, on The Cosby Show. The jury has yet to come to a decision in Cosby's case (it entered a third day of deliberations on Wednesday), but Pulliam spoke to the Today show ahead of the verdict to explain why she supports a man whom almost 60 women have accused of sexual assault.
"At the end of the day I truly believe you're innocent until proven guilty," the actress — who's previously spoken out in support of Cosby — told anchors. "And that's just not the man that I ever experienced." She went on, "I just thought … how would I want to be treated if, God forbid, I was in that situation?"
When asked if a guilty verdict would change her opinion of Cosby, Pulliam said she'd be "disappointed, however it won't change the love." "When you have family people falter, people make mistakes, things happen," she continued. "He's still a person — he's still a father, a husband, a parent, someone's son."
But she was quick to add that she doesn't see her support of Cosby as problematic: "In no way is that condoning sexual assault," she said. "As a woman, a graduate of Spellman College — an all-women's college — and being the mother to a daughter, it's nothing that I take lightly or that I condone in any way, shape, or form."
Pulliam deflected a question about what she thinks of Cosby now that dozens of women have accused him of sexual assault by talking about his relationship with his wife, and added that she's "grateful to see [Cosby's] spirit hasn't been broken" by the case. If he's found guilty, Cosby could face more than ten years in prison.