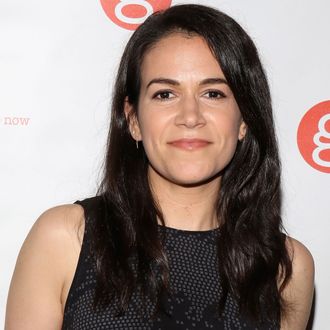 Abbi Jacobson.
Photo: Janette Pellegrini/Getty Images for Girls Write Now
WNYC Studios, the podcast production arm of New York Public Radio, and the Museum of Modern Art are collaborating on a ten-episode show called "A Piece of Work," which is designed to explore various works of contemporary art from the latter's extensive collection. Notably, it's hosted by Broad City's Abbi Jacobson (an art-school graduate herself), and she'll be joined by a pretty robust supporting cast throughout the podcast, including curators and conservators from MoMA as well as fellow celebrities like Hannibal Buress, RuPaul, and Tavi Gevinson — and those are just the ones who host podcasts themselves. ("Handsome Rambler," "What's the Tee?," and "Rookie," respectively. It's podcast boom times, people.) Questlove and Samantha Irby are also on the lineup.
Anyway, each episode is said to explore a different theme — the press release lists upcoming titles like "minimalism," "pop art," "abstraction," and so on — and they will generally be structured around specific pieces of work. The project sounds a lot like a super-spiffy MoMA audio guide for art lovers and the art curious to consume without having to physically visit the museum itself, which one imagines is a conscious effort to increase the accessibility and reach of a world as insular (and somewhat cost-prohibitive) as art. "A Piece of Work" arrives in an environment that's a little short on podcast programming in the art category, though it should be noted that there have been some quiet examples of lovely art-oriented podcasts released over the past few months, including a scrappy independent podcast called "The Lonely Palette" and, of course, the marvelous pieces that have come out of the Memory Palace's Nate DiMeo's recent residency at the Metropolitan Museum of Art. (One of which, I should add, made my Best Podcast Episodes list last year.) Here's hoping for more of those in the months to come, in addition to this new joint by WNYC Studios and MoMA.
"A Piece of Work" debuts its first episode on July 10, and will air twice a week on Mondays and Wednesdays throughout its run.