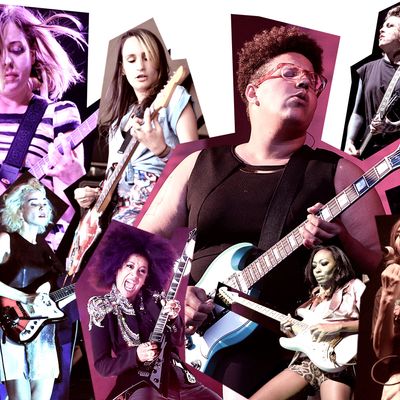 Just some guitar heroes.
Photo: Getty Images
On Thursday, mere days after launching a news site for women called the Lily, the Washington Post published a story by Geoff Edgers that mused on the supposed death of the electric guitar. Sales are down at places like Sam Ash and Guitar Center, big guitar makers like Fender and Gibson have seen their revenues decline, and in 2010, acoustic guitars began to outsell electric guitars. Why? According to the piece, it's because male guitar heroes are dying off and aspiring musicians have no men to look up to. Sad!
Besides insulting Taylor Swift in a way even Katy Perry would bristle at ("Nobody would confuse the pop star's chops with Bonnie Raitt's. But she does play a guitar."), Edgers manages to make it through an entire history of the electric-guitar industry as it stands without quoting more than one female guitar player — the Runaways's guitarist Lita Ford. Any person who has actually interrogated the music landscape deeper than, say, an Eric Clapton record would recognize that the electric guitar isn't dying. The throngs of women who play electric guitar just don't get exalted or celebrated in the same way as aging men. But there are legions of women playing guitar — maybe Edgers just hasn't been paying attention.
In March when the Cut interviewed Fabi Reyna, the editor-in-chief and founder of She Shreds, a magazine for female-identifying guitar players, she commented on men insisting she listen to the guitar heroes we're all allegedly mourning. "I was talking to a dude at a big company recently and he asked me if I'd heard of this band, which was, of course, a band of all dudes," she said. "I was like, 'Sorry, I don't know much about male guitar history, and I don't really care to. Don't tell me or ask me about these bands because I just don't know them.'"
If you really believe the electric guitar is dying, here is a primer of 16 women who will quickly change your mind.
Bibi McGill
Corin Tucker and Carrie Brownstein, Sleater-Kinney
Malina Moye
Marnie Stern
Brittany Howard, Alabama Shakes
Marissa Paternoster, Screaming Females
Jade Payne, Aye Nako
Sadie Dupuis, sad13 and Speedy Ortiz
Mary Timony, Ex Hex and Helium
Laura Jane Grace, Against Me!
PJ Harvey
St. Vincent
Lindsey Troy, Deap Vally
Beverly Watkins
Alex White, White Mystery