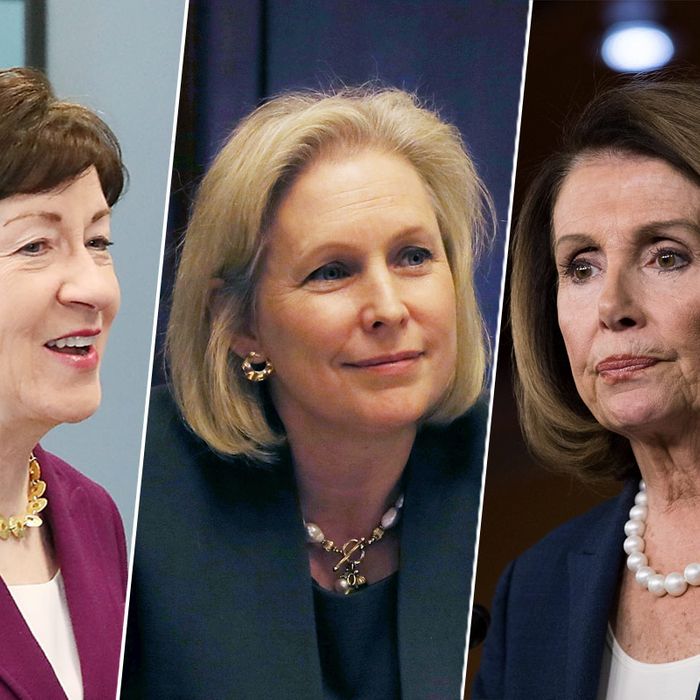 Lawmakers on both sides of the aisle have expressed their disapproval.
Photo: Getty Images
On Thursday, feeling "bullied," the president of the Untied States took to Twitter to rant about "crazy" Morning Joe host Mika Brzezinski's alleged face-lift.
"I heard poorly rated @Morning_Joe speaks badly of me (don't watch anymore)," he tweeted. "Then how come low I.Q. Crazy Mika, along with Psycho Joe, came to Mar-a-Lago 3 nights in a row around New Year's Eve, and insisted on joining me. She was bleeding badly from a face-lift. I said no!"
His comments outraged many, including several women lawmakers, some of whom called the president out for his sexist attack on a woman's appearance. "It's so blatantly sexist I don't even know that there's any question about it," House Minority Leader Nancy Pelosi told reporters in Washington. She went on, "It's really sad. This is the president of the United States. Something's wrong there."
New York Democrat Nita Lowey mentioned the tweets on the House floor, calling them "heinous and vile comments about the looks and intelligence of a prominent woman."
Kansas representative Lynn Jenkins (who in January announced she'll retire in 2018) was one of the first to tweet back at Trump:
Senator Dianne Feinstein echoed her on CNN:
And Senator Kirsten Gillibrand suggested a solution:
Republican women also chastised the president, although their comments were less in the vein of "this is sexist" and more along the lines of "dear God, please stop."
But naturally, Melania was cool with it. "As the First Lady has stated publicly in the past, when her husband gets attacked, he will punch back 10 times harder," her communications director, Stephanie Grisham, said in a statement.