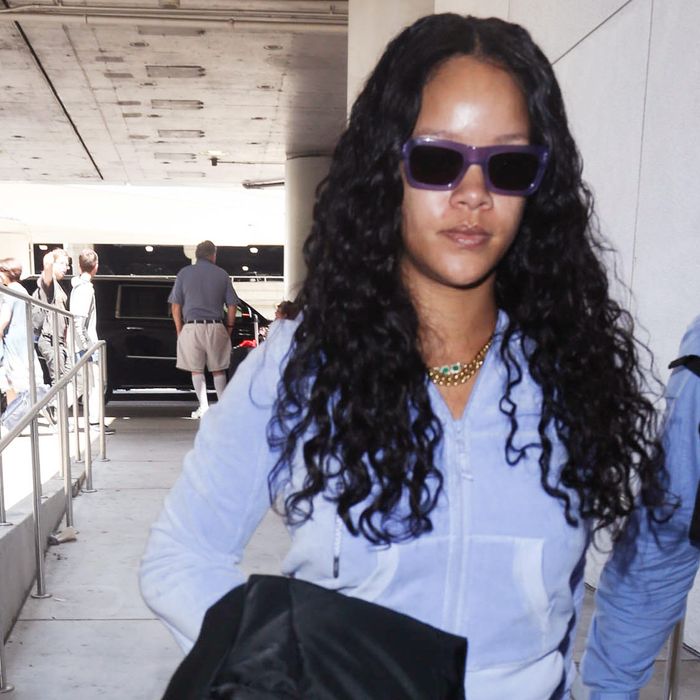 Photo: 2017 Bauer-Griffin/Getty Images
You might reasonably assume the article "Rihanna's Butt in This Tracksuit Is Straight Boi-Oi-Oing" appeared on a men's lifestyle website trafficking primarily in soft-core porn. You'd be mistaken. It's actually from Cosmopolitan.com, the international women's website that's long branded itself as a voice of sex-positive female empowerment. In their efforts to combine buzzy topics like "body positivity" and "feminism" with the kind of clickable content audiences crave, many women's websites seem to have stumbled upon the oldest trick in the internet book: publishing naked-celebrity photos. This time, though, the upskirt paparazzi shots that used to crop up on creepy early-aughts blogs like What Would Tyler Durden Do? are cloaked in the guise of female empowerment — after all, isn't being horny about Rihanna's butt just a healthy example of sex positivity?
Kylie Jenner Accidentally Flashes Her Crotch to Photographers
Here's Ariel Winter's Naked Butt
10 Times Kendall Jenner Freed the Nipple and Owned It
Kim Kardashian Wore a Sheer Top, and Her Nipples Are Loving It
18 of the Nakedest Looks From the 2017 Cannes Film Festival
15 Celebrities Who Wore Underwear as Outerwear and Embraced the Sexy
Selena Gomez Is Wearing Just a Thong in Her Latest Sexy Selfie
Bella Hadid's SEE-THROUGH Met Gala Dress Is Her Most Revealing Yet
5 Times Kendall Jenner Freed the Nipple
Rihanna's Most Naked Moments of 2014, Because 'Twas the Year to Free the Nipple (NSFW, Obviously)
Celebrities Who Bared It All on Instagram (SEO headline: "Nude Celebrity Instagram Photos, Most Naked Celebs Ever")
You Won't Believe How Many Celebs Have Nipple Piercings (NSFW)
Bella Hadid's Icy Naked Dress Is Barely Hanging On
Braless Kim Kardashian Wore the Same Outfit for 3 Days Straight and I Am So Here for It
It's hard to pinpoint an exact time when it all started, but we might trace it back to the 2014 "Free the Nipple" movement and the accompanying wave of public bralessness — which, yes, the Cut also covered. So what's next in the naked-celeb media life-cycle? Ads for male-enhancement products, alongside listicles of feminist nipple-freeing? Only time will tell. Until then, at least we can all agree Rihanna's butt looks good in that tracksuit.