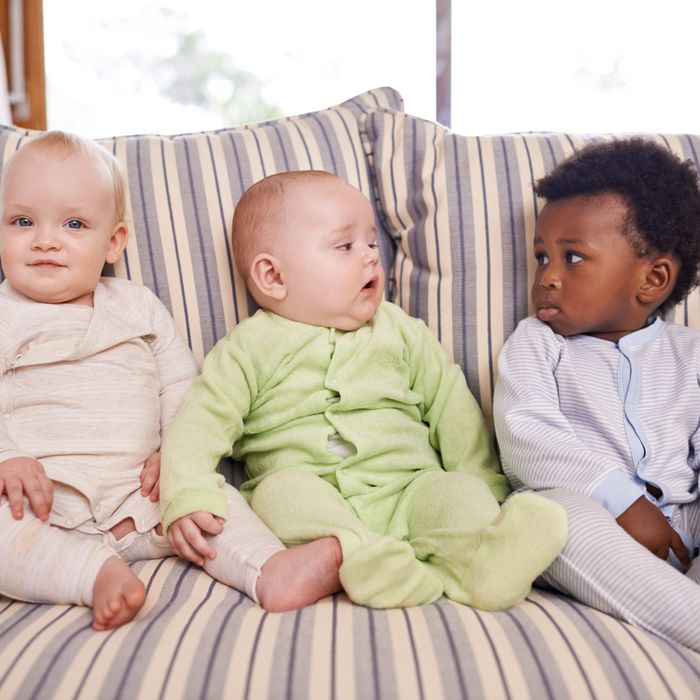 If born last year, these babies are definitely not named Franny, Salmon, or Puck.
Photo: Getty Images
The main details gained via Tuesday's Amal Clooney birth announcement were what the lawyer and actor called their brand-new twins: Ella and Alexander, two beautiful, average names. Both rank near the top of the Social Security Administration's data for 2016, with Ella at 17 for girls and Alexander at 11 for boys. Perhaps mastering fame means not even bothering to strive for uniqueness? In any case, those of us far from famous and struggling to make our mark in this world are in luck: We can peruse a recent list of names so unique no one's using them at all.
To this end, delightful moniker site Nameberry has done an incredible job finding creative new angles to examine Social Security data on baby names. Though the data was released earlier this year, Nameberry keeps circling back to draw more from the well. Their latest? Baby names no one used in 2016. Fun!
By running the SSA's name data against all the names they've recorded for their site, Nameberry came up with 5,000 names that they say went completely unused last year. Parents-to-be interested in practicing elite naming, tread carefully: On the one hand, you can bet a name on this list isn't going to shoot from zero to popular in the span of one year. On the other, the names below definitely have a newfound exposure — you're probably not the only one intrigued by Gulliver, or newly contemplating Franny and Bee. And am I the sole person surprised to find both North and West? I doubt it.
Below, a curated selection from Nameberry's list of names no one used in 2016.
Girls:
Bee
Franny
Bluebell
Diablo
Fifer
Frostine
Jericho
Lucasta
Tally
North (!)
West (!)
Perdita
Season
Winsome
Puck
Hester

Boys*:
Gulliver
Moe
Raoul
Beach
Salmon
Drummer
Puck (again!)
Spike
Umberto
Trout
Thibault
Mingus
Humphrey
Want to keep pondering names? The Social Security Administration's baby-name site is worth a visit. There, you can plug a name in to check its popularity over time — or examine popular names for any year after 1879. You can even take a quiz to determine the perfect baby name, selected just for you as you learn facts about Social Security. Extra fun!
*The Cut tried but couldn't help choosing more girl names than boy names. This is because boy names just aren't as good. Disagree with us in the comments.