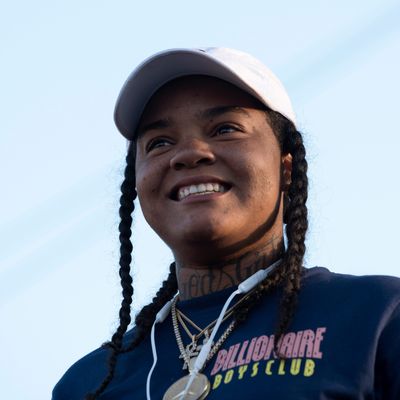 Young M.A
Photo: Ronen Tivony/NurPhoto via Getty Images
This summer, every festival lineup and radio station will inevitably feature the same predictable artists. That's a Bop is our monthlong effort to introduce you to artists and songs beyond the top-ten list.
What do you want to do this summer? Clock some pool time? Maybe crash at someone's beach time-share for a whole weekend? Allow Young M.A to help you dream bigger. On "Self MA.de," the energetic single from her debut album Herstory, she raps:
Uhh, I wanna sip white Henny in the white Bentley
I wanna sip moonshine by the poolside
I wanna count hundos in the condos
That sounds better than looking for parking at the Rockaways.
In the three years since her "fuck labels, get money" vibe and the quick fire radio hit "OOOOUUU" first earned her hip-hop dominance, Young M.A hasn't stopped grinding. (Check out her most recent tweet, #Iworkonvacation.) So the next time you feel like dipping out of work early on a summer afternoon, remember the motivational lyrics of "Self MA.de."
Young M.A's album Herstory is out now.