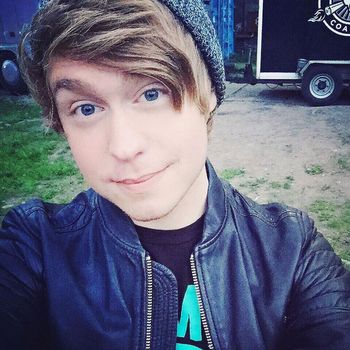 YouTube star Austin Jones, 24, was arrested on Monday in Chicago on child-pornography charges, the Associated Press reports. Jones, whose pop-music channel has more than 500,000 subscribers, allegedly used social media to urge two underage female fans to send him sexually explicit videos of themselves.
As the AP reports, a federal complaint released on Tuesday includes two counts of child-pornography production against Jones, accusing him of instructing "Victim A" and "Victim B" to make explicit videos in August 2016 and May 2017, when both of the girls were around 14 years old. Jones appeared in federal court in Chicago on Tuesday in orange jail attire and ankle chains, and when he was asked by a judge whether he understood the charges he faced, he reportedly responded, "Yes, your honor." Each of the counts carries a minimum sentence of 15 years in prison and a maximum sentence of 30 years, according to the AP.
Jones is known for posting a cappella and acoustic covers of popular songs by artists ranging from Panic! at the Disco to Justin Bieber, and has a fan base that is primarily teenage girls, according to the complaint. More than 5 million people have watched his most popular video, an a cappella cover of "Welcome to the Black Parade" by My Chemical Romance.
Both of the victims allegedly expressed reservations about making the videos for Jones, and Victim A repeatedly told him that she was only 14, the complaint states. However, Jones continued to encourage them to record the videos, telling each of the girls what to wear and what to say, in addition to directing them to perform sex acts as "try outs."
The complaint states that Jones told Victim B, "I seriously shouldn't be talking to you," before telling her in an online chat that he was trying to help her understand his detailed instructions. "I know you're trying your hardest to prove you're my biggest fan," Jones allegedly told Victim B. "And I don't want to have to find someone else."