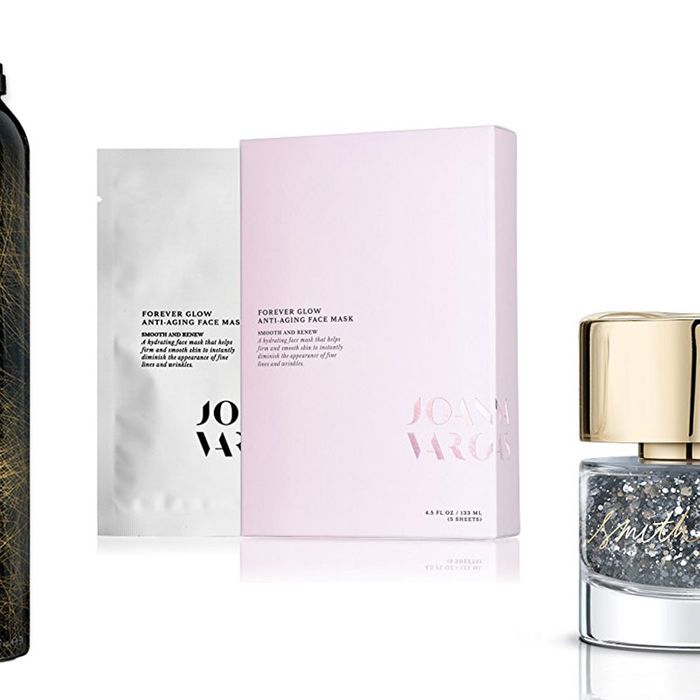 Did you think there weren't any holidays between Fourth of July and Labor Day? You obviously forgot about the cyberholiday of Prime Day, a day when Amazon users feel vindicated in their decision to pay an extra $99 a year. The brand specifically sweetens the deal today for beauty lovers by giving all Prime users 30 percent off any luxury beauty item. (If you've never bought luxury beauty on Amazon before, be sure to put in the code "new2luxpd17".)
Despite Amazon's having virtually everything from French drugstore products to obscure Baby Björns, their luxury beauty section is on the more streamlined side. Nevertheless, here are the 13 best deals to use your discount on — from the most-loved hairspray to a shampoo that looks good even when you have the stomach flu, and sheet masks from Julianne Moore's favorite facialist. Just note: All the prices below are after the 30 percent discount.
Chrissy Teigen once tweeted that if you are a hairstylist and don't have Oribe Dry Texture Spray in your kit then she doesn't think anything of you. True to her trademark honesty, she's not wrong. This is my favorite hairstyling product and it really is in the tool kit of every celebrity hairstylist. Plenty of people have tried to copy it but to no avail. It's a truly one-of-a-kind product that is an effective non-tacky hair spray and gives volume and texture to flat hair. I spray this into hair to give it some more model-off-duty texture or into curled hair to dispel the dreaded sausage curls.
I once had the stomach flu for a week and while my skin turned gray and my dark eye circles practically became phosphorescent, my hair looked great. And that was because I forced myself midway through the week to wash my hair using this shampoo. My hair looked bouncy, my layers fell in beautiful, soft sheets, and it didn't look frizzy for the entire week despite my spending a good portion of the time passed out on the bed. This shampoo is unlike anything you've ever used before because it has the texture of syrupy honey that becomes a soft lather with water (creator and hairstylist Philip B told me it's full of L-amino acids, which are intense nutrients for the hair). It's so expensive though, that I only pull it out for special occasions —perhaps for the next time I get pneumonia or bronchitis.
For those who don't mind an abundance of choices. On a good day, my bathtub resembles the prefect bathroom in Harry Potter: An abundance of shower gels sit on the perimeter, but I find that this shower oil is consistently depleted. I think it's because houseguests consistently reach for it, drawn to its pleasing almondy-vanilla scent, and the way that this oil becomes a frothy, silky lather with water that negates the need for lotion afterward.
In the sunscreen awards (yes, this is really a thing), this sunscreen is like the Meryl Streep of sun protection. It's won the Consumer Reports award for best sunscreen three times in a row because of its silky texture and its easy ability to absorb into the skin without much patting, rubbing, or tugging. Not only does it make your skin feel like you're wearing nothing, it actually makes your skin feel better — moisturized and soft, without feeling greasy.
Ever since it was name-checked in the book version of The Devil Wears Prada, Essie's Ballet Slippers remains the gold-standard neutral pink for nails, and is consistently the most popular color at nail salons.
Solange gets her face cleaned with this French makeup remover and it's consistently one of the most-used products seen backstage during Fashion Week. Yes, you can use it cleanse your whole face, without leaving any kind of residue or stickiness behind. But you can also do as the pros do (even Adele's makeup artist, Michael Ashton, does this), and dip a Q-tip into it to make a cat-eye more arched and perfect, or to sharpen and better define a lipstick line.
If you wear makeup, this is the sunscreen to layer underneath. It goes on completely matte and velvety like your favorite makeup primer, and is slightly tinted so it doesn't leave a white cast on the skin. It seems to work best on people with dry to normal skin types, as some people with very oily skin reported that it did break them out.
It might be the least expensive thing on this list, but Amazon categorized this as luxury beauty for a reason. Underneath the cute bunny cap of each of these glosses is a tinted lip balm that rivals many of its more expensive counterparts. I've put this on in winter and found that it immediately smoothed and filled in my cracked lips, while also giving them a pretty rosy glow. It comes in multiple, very flattering colors so you can buy them all.
Hard Candy founder Dineh Mohajer created your obsession with pastel nail polish in the '90s. With her grown-up but still edgy nail brand Smith & Cult, she's created nail polishes that feel luxurious with their color payoff and longevity. I've had manicures that haven't chipped for up to seven days with her polish. My favorite are her glitter polishes, which feature a wide variety of glitter particles beyond the usual kind you find in bulk at a craft store. This particular silver one comes in exceptionally shiny, tiny, round flecks that recall a Studio 54 disco ball and are pigmented enough to be used all over the nail or brushed on lightly onto specific nails as an adornment.
Celebrity hairstylists only like to use this on their most favorite clients because it's expensive. Leonor Greyl is a classic French hair brand that has a salon in Paris's pricey Eighth arrondissement where fancy ladies go every week to get a blowout or 11-step fancy head massages. The brand is particularly known for its use of nourishing botanicals and this hair oil, although not cheap, doesn't contain any "filler" ingredients. You can use it before a shampoo as a pre-oil treatment to soften and moisturize hair or you can use it to style, de-frizz, and smooth down baby hairs on dry hair. Their $145 hair mask is also worth every penny.
Now every brand has a liquid lipstick, but before them all were these original liquid lipsticks from Stila. I've found these to be completely snack- and eating-proof (things get a little tricky with soup, but they withstand most drinks, too). Beso, the red shade, is a true red that instantly makes your face look brighter and the other two shades are more novelty shades. Fitness instructors who are going to be on-camera for livestreams or taped shows frequently turn to this as a makeup option if they want something that's going to be sweat-proof. The doe-foot applicator and intense color make it very easy to apply.
Judy Greer loves these face masks by celebrity facialist Joanna Vargas, and Julianne Moore is her longtime client, helping her to ward off the effects of "sushi face." Although she offers many different types, this one is a general all-purpose moisturizing mask that feels comparable to the SK-II mask. It contains anti-inflammatories like Gingko biloba extract and olive leaf to help de-puff the face, and hyaluronic acid, an ingredient known to draw water to the skin. They come in convenient packs so you can carry a few or a whole pack with you.
If you're doing a manicure at home, don't even think about doing it without a base or top coat unless you want your nails to chip and develop white spots. This base and top coat from stylish New York nail salon Tenoverten looks and is the building block of a good, classic manicure.
If you buy something through our links, New York may earn an affiliate commission.