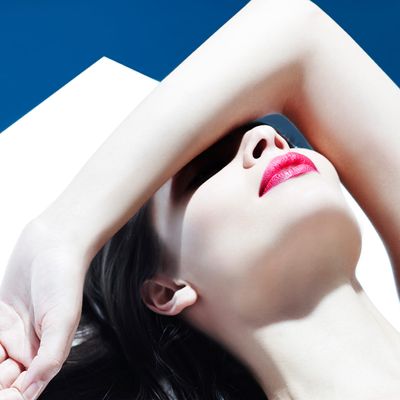 You scream, I scream, we all scream when the MTA decides to behave every day like Mercury is in retrograde. Thanks to train delays and hot temperatures, your morning makeup routine can quickly go from beloved, cherished ritual to face-product soup as you sweat off hundreds of dollars in makeup. Celebrity makeup artist Beau Nelson may not have clients that regularly take the subway, but his work on Kristen Stewart, Nicole Richie, Leighton Meester, and Ashley Graham have endured hot camera lights and un-air-conditioned red carpets. Below, Nelson gives us his best tips and tricks for makeup during a heat wave.
For your makeup not to look like melted coffee creamer by the end of the day, Nelson suggests longwear formulas. "They have a little oil control and lock your skin down so you're not exaggerating the problem of overly dewiness," he explains. Worried it will give you cake face? Nelson assures me that the new longwear formulas allow for a lot more flexibility and don't make you look like you are wearing car paint.
Using any kind of moisturizing or dewy formula is sort of like selling space heaters in August, as a BB cream or CC cream "just adds to the humidity." Embrace the natural dewiness, Nelson says. Sweat is nature's highlighter, and makeup artists have spent endless time trying to replicate the sweaty-face look on the runway.
This longwear foundation is designed to feel like your skin is nude. It doesn't make your pores feel like they're suffocating and gives just a touch of a dewy finish. Nelson likes this pick because "it doesn't look heavy."
This longwear foundation has an impressively diverse color range with over 40 shades. It's oil-free, and Nelson says the coverage is strong enough that you can just use it in spots and blend it out on top of moisturizer.
Most longwear formulas don't require primers, but if you can, try one underneath your favorite foundation to extend its wear. This primer is much-loved by Nelson and many Sephora users, with almost 7,000 practically five-star reviews.
"I always like a cream blush. It has a glow in the right place," Nelson says. A good way to lock melting makeup is to layer, so that the different textures create a bit of a makeup "lock." Nelson's trick is to use a cream blush that's a little semi-matte and add a complementary powder blush on top to give the color a little dimension.
To make sure your whole face doesn't glow like the full moon, Nelson's method is to blot the face first with blotting powder, and then use a brush to apply powder strategically. "Around the nose, the bridge of the nose, and don't forget above the eyebrows! All these people take selfies and the arch above their selfies is all oily. It ruins it."
These Japanese blotting papers pick up oil without disturbing makeup, and leave the tiniest trace of powder. "If you're really oily or want a more polished look, these are great," Nelson says.
These don't leave anything behind and absorb all oil. "They're great if you want a natural, no-powder-at-all finish."
It's only available online, but Nelson likes how silky and invisible this powder looks, especially on the red carpet.
"It doesn't look like powder at all," Nelson explains as to why he loves this pick from makeup artist Charlotte Tilbury.
Yes, highlighter is a trend, but Nelson has a highlighter public-service announcement, which is that "people should be more careful with their highlighter application." If you put on too much highlighter in the daytime, "You look like a Christmas tree." He suggests that if you're out in the daytime and it's hot, you don't even need a highlighter. If you decide you want to wear some, a little above the cheekbones, on the cupid's bow and the inner corner, will look pretty (here's a guide). Avoid the professional-makeup-artist trick of highlight on the end of your nose unless you're in a photo studio — you'll look greasy.
If you simply "must" wear a highlighter during the day, Nelson likes the one from Glossier because it's not super frosty. "It's a little gloss and highlight at the same time."
Eyes
"You need a good primer," Nelson says to keep your eyeshadow from becoming blotchy. He also likes long-wear cream eyeshadows because they look fresh and stay in place. The primer will help the eyeshadow stay in place and also lock in any eyeliner you add on as well.
Nelson likes this eyeliner which you can set using a matching powder on top.
This primer uses a mix of polymers and mineral powder to keep eye shadow from smushing around on your eyelid.
It goes on easily in a pen format, making it great for travel, and sets easily with minimal blending and no creasing.
A long-wear eyeshadow that is blendable and won't sweat off, and that comes in an abundance of smoky and more neutral shades.
"It looks ridiculous when you have a full face of everything on," says Nelson. He likes to play with fresh skin and a really bold matte lip like a coral or orange-y red. Or, he likes to use more balmy lip textures in the summer.
These are sheer, shiny lipsticks that give a good dose of color and an almost fancy Chapstick-ish texture. Boy is a particular favorite color for a nude.
These glossy lipsticks from Clé de Peau Beauté almost resemble elegant old-timey long cigarette holders. They have a silky texture and don't dry the lips out.
This is a great orange-y red that Nelson loves.
It's simply called "coral" because that's what it is. "It's a bright coral pink," and a great long-wearing matte, according to Nelson.
"Fucking amazing," is how Nelson feels about setting sprays, specifically the one by Urban Decay. When he uses it, he moves the bottle as he sprays both up and down and from side to side a couple times. These sprays ensure that your makeup really does stay all day, night, and the next day too.