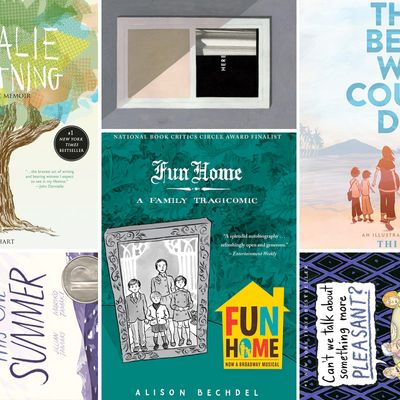 In the Cut's recurring books column, Shelf Improvement, we delve deep into our bookshelves to find recommendations that never go out of style.
I'm not the sort of person who cries at books or in movies, but there's something about the right combination of words and drawings that's my tearjerker kryptonite: In the last year or so, "graphic novels that make you feel things" has become one of my favorite genres. Here are a few books that I loved so much I bought copies for my friends, exes, siblings, and co-workers.
One of the first graphic novels I ever picked up, Fun Home is a memoir exploring the author's relationship to her father, a third-generation funeral director and high-school history teacher. Bechdel's coming-of-age story is told through the lens of her attempts to forge a connection with her ever-distant father — it's sweet, funny, and dark all at once.
Based on a six-page comic strip published in Art Spiegelman and Françoise Mouly's Raw magazine, Here captures the entire history of a single room throughout time. Instead of a conventional plot or timeline, Here overlays different time periods on each page. There's something feverish about the pacing. You overhear snippets of conversation; you watch a cat move across a room, a dinosaur across a plain; you bear witness to isolated moments of love and tension, and are overwhelmed by the immense scope of life here on Earth. I read Here in the course of a single night, and would have gladly read 1,000 more pages if I could.
Thi Bui's debut graphic novel — a memoir about her family's immigration from Vietnam to the United States during the Vietnam War — had me weeping openly on the New York City subway (a great place to cry). The Best We Could Do is about love and family legacy — how we inherit our parents' lived experiences, and pass them along to our own children. "In the dark apartment in San Diego, I grew up with the terrified boy who became my father," Bui writes (and also beautifully draws). "Afraid of my father, craving safety and comfort. I had no idea that the terror I felt was only the long shadow of his own."
A devastating graphic memoir about grief, Rosalie Lightning centers on the death of cartoonist Tom Hart's young daughter Rosalie before her second birthday. Reading this book wasn't enough; I wanted to get inside it. I drew scenes from it in my own notebook, among them: two characters in a raft on a body of water, one saying to no one in particular, "Maybe when I die and I'm floating above it all, I can say I lived through the most horrible thing I feared most …"
New Yorker cartoonist Roz Chast's graphic memoir (yes, I'm partial to graphic memoirs) is about her relationship with her parents, and the gentle reversal of roles that takes place between children and their parents as they age. There comes an age when we start to realize our parents are people — not the untouchable gods we saw in childhood, but flawed, complicated human beings. Chast's memoir explores that drama as it unfurls over the course of her adult life.
Illustrated all in shades of blue, This One Summer is a coming-of-age story about Rosie, who's spending the summer at her family's lake house at Awago Beach, and her friend Windy. Set between childhood and proper teenage-hood, This One Summer follows Rosie and Windy as they begin to gain a whole new awareness of the world around them. It's not quite as heavy as some of the other titles on this list, but we witness the characters' first experiences with sorrow and desire.
If you buy something through our links, New York may earn an affiliate commission.