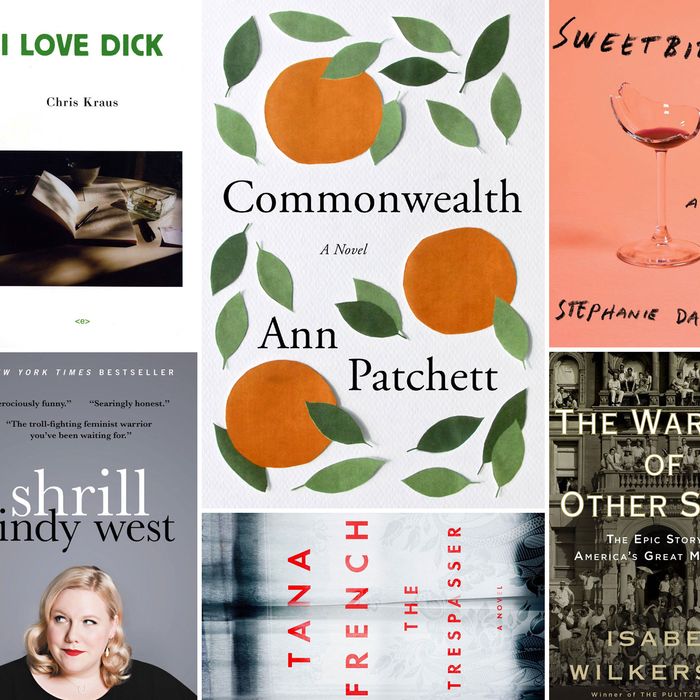 In the Cut's recurring books column, Shelf Improvement, we delve deep into our bookshelves to find recommendations that never go out of style.
As anyone who has ever had a kid will be happy to explain at great length, maternity leave is not a vacation. It's more like a staycation. Where you never leave your house. And your traveling companion wakes up screaming every two hours. Really, the only thing about maternity leave that resembles vacation is the part where you get to spend hours reading whatever you want. Reading a book while holding a nursing baby, or a sleeping baby, is almost as pleasant as reading a book on a balcony overlooking the ocean.
There are competing schools of thought about what to read. It can be easy to spend hours scrolling through Instagram, but remember: There are also books. In the delicate postpartum stage, some readers don't want anything too disturbing. Others want pure escapism. I suppose some people read nonfiction books about how best to raise babies, but those people are more responsible than me. Personally, I like the intuitive approach: Just devour all those books you've been meaning to read, and try to switch genres as often as possible. Here's what I read when I was out on leave with my second son.
A Novel About Something Glamorous
A story about the seamy underbelly of the restaurant industry, by someone who's been there, is to me, a perfect breastfeeding book, because it's pure escapism: Getting an all-hours job at an acclaimed restaurant; hooking up with the hot but troubled bartender; forming a passionate, problematic friendship with a mysterious Cool Girl. The only problem is that it's almost too sexy to read in your pajamas while a tiny person drools into your hair.
Another perfect breastfeeding book with just one fatal flaw. It's long, it's story-driven, it's about family — specifically the lives of six children who grow up as step-siblings, starting in '60s California. Between the implied attractiveness of everyone and the plot twists, HBO could make some really lovely prestige TV out of this book. The only downside — and this is a big spoiler, so proceed with caution — is that something bad happens to a child about 60 percent of the way through.
My brother is a historian, and right after the baby was born, I started pestering him for good history books to read. Every conversation we had went like this. Me: "I'm going to read The Warmth of Other Suns." Him: "Don't do that! It's going to bum you out! Here is a nice book about Ben Franklin's sister." Me, two days later: "Actually I'm just going to read The Warmth of Other Suns." Him: "Seriously, you're on maternity leave. That is a book about lynchings. Why don't you read that book everyone loves about the building of the Brooklyn bridge?" I see the argument for keeping things light when your hormones are a mess, but in the end I'm glad I ignored him. The Warmth of Other Suns is a history of the Great Migration — the movement of black Americans from the racist rural south to cities like New York, Chicago, and L.A., which turned out to be not much better. It won't make you feel good, but it's an incredible feat of reporting and the kind of book that deserves a solid chunk of your time.
This is not exactly a biography, more like a lyric essay — analysis meets poetry. Jefferson weaves together the tragic facts of Jackson's life with the transcendent fact of his music, offering context for the man who may have been America's strangest, loneliest celebrity. Michael Jackson fans on Amazon seem to hate it because she's not especially generous toward him, but if you're a writer or just someone who cares about writing, it's dazzling.
Little experimental books like this love-triangle cult favorite turn out to be great to read when you haven't slept in several months, because you're so scrambled to begin with that you're more receptive to the nonlinear storytelling. Or at least that's what I kept saying to myself. Mostly I just wanted to momsplain the Amazon series to my husband. ("Oh yeah, it's like completely different in the book.")
If you've never read one of Tana French's Dublin-murder-squad novels, don't start here. Start with The Likeness, which is basically Donna Tartt's beloved campus intrigue The Secret History relocated to Ireland. But after that, do try The Trespasser, a solid mystery featuring a murdered party girl and a Dublin detective who's not getting the respect she deserves from her thickheaded male colleagues. The workplace drama rivals the murder drama and will probably make you relieved to be free of office politics.
An Irresistible Feminist Manifesto
One day in March, my cherubic older child gave my cherubic new baby the flu. We rushed him to urgent care, where they prescribed Tamiflu for the baby and let the big kid watch Mulan in the waiting room. (I'm raising my sons in a feminist utopia.) The baby was awake that entire night, and I passed the time snuggling him and reading Shrill. West is so funny and fluid that she makes it possible to consume an entire book on relatively heavy subjects (sexism, fat-shaming) in one sleepless night.
The Solid Moms'-Group Pick
By this point in my leave, the baby was four months old and I was looking for another Commonwealth — something well-written but not too wild, a solid moms'-book-club kind of book. Unfortunately, we were also sleep training, a process that involved letting the baby cry at bedtime until he figured out how to sleep on his own. Sleep training makes me miserable, and so by the third day, I had a child who could fall asleep in three minutes flat and a burning rage in my heart misdirected at Olive Kitteridge. Screw you, Olive, and your gentle-yet-heartbreaking experiences growing older in your little Maine town. (It's a pretty good book, though.)
If you buy something through our links, New York may earn an affiliate commission.