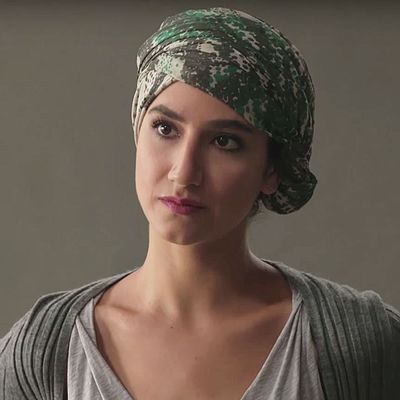 Nikohl Boosheri as Adena in
The Bold Type
.
Photo: Courtesy of Freeform/ABC
The Bold Type, Freeform's new show about three young women making their way at a Cosmopolitan-esque magazine called Scarlet, features a landmark moment in pop-culture representation: a queer Muslim woman who wears a hijab. Nikohl Boosheri plays Adena, a feminist photographer who Scarlet is profiling, and who embarks on a romance with magazine staffer Kat (Aisha Dee), another woman of color — thereby launching a thousand ships in an online fan community starved for representation onscreen.
While the show's approach to Big Issues often feels a little paint-by-numbers — the first four episodes deal with immigration and racial profiling in addition to Kat exploring her sexuality — the queer Muslim women I spoke to (contacted largely via social media, hailing from around the world) said the experience of seeing a character like Adena onscreen was extremely powerful. While "visibility" and "representation" are buzzwords that get tossed around so much they threaten to lose all meaning, talking to these fans was a reminder of the significance of seeing someone like you onscreen for the first time.
While men from Muslim backgrounds like Kumail Nanjiani, Aziz Ansari and Hasan Minhaj are gaining ground onscreen (although we still have a long ways to go), Muslim women are largely excluded from the picture; when they do appear onscreen, they're often portrayed, as Aditi Natasha Kini puts it in Jezebel, "as caricatures, stereotypes, inconsequential, and/or the butts of a joke." Adena is none of these things. In the first episode, Kat asks her why she chooses to wear a hijab ("Isn't it contradictory?"), and Adena explains that, "It does not oppress [her] but liberates [her] from society's expectations of what a woman should look like." For the women I spoke to, many of whom also wear a hijab, hearing Adena confidently own her feminist identity, her Muslim identity, and her lesbian identity simultaneously — even if her reasoning doesn't quite exactly match their own — offered a powerful model of how one might successfully and proudly balance these seemingly contradictory parts of their identity, something that many of them grapple with on a daily basis.
As one 19-year-old woman from the Netherlands put it: "My friend and I who watch it identified so much and it felt so safe for us, like we shouldn't be afraid of who we are. Because lots of times we feel so afraid and like we're doing something wrong, and they made us feel much safer."
The following interviews have been lightly edited and condensed. Some names have been changed.
Laila, 23, Toronto, queer
It was really cool how they were trying to convince her the magazine is feminist. I feel like usually you're trying to tease apart whether the Muslim character even identifies herself as a feminist, whereas in this the magazine needed to prove they were feminist enough for her, which I really loved. And the chemistry between her and Kat was incredible. I also found it interesting that Kat asked her about why she wears the hijab so quickly after meeting her; I feel like she must have known a bit about Islam to know that would be a contradiction. I feel like often people know so little about Islam that they don't even know what questions to ask. So that was interesting to me, even the fact that it came up.
Her clothing did throw me off a bit, but people do dress like that; it's not very common, but it's a real thing that happens in the West. Adena looked like two or three queer Muslim women that I personally know and it was really nice to see that.
I thought her speech about why she wears the hijab was interesting — I didn't personally identify with it but I felt it was an answer that a real queer Muslim woman could likely give. I think my personal reasoning has changed a lot over the years. She kind of was like, "I do it to throw people off," which is legit. I feel like for me, I started wearing hijab when I was 9 and it was very much because I was like, This is something that's required by my faith. And now it's just a part of who I am and I very much enjoy the community I get out of it, because I meet lots of Muslims in my life just because I wear it, and we can identify each other which is really comforting.
Nor, 21, Malaysia, pansexual
It was very nice to be represented. Especially the fact that she's a successful Muslim woman who wears a hijab, and that she's out and proud, of course. I want people to know that Muslim women who are LGBTQ exist and that we can be religious too at the same time. Many hijabis are seen as weak or oppressed or that we are here to serve men, when that is not true. I want people to know that, hey, you can be gay or bi or whatever and still be devoted to God. As a hijabi myself, the muslim community expected me to be modest, to be a housewife to be a mother, to be a very soft-spoken woman who doesn't do anything to stand up for herself and her rights, but Adena completely proved that is not the case.
Sofia, 17, Egypt, pansexual, uses they/them pronouns
Adena's character is outstanding. Positive LGBT+ representation in general — on shows like Orphan Black and Sense8, and a YouTuber as well called Miles McKenna — helped me figure stuff out [about myself], so with the character being Muslim, it was amazing. I love that when Kat first tried to interview her and asked if she was scared to say that she's a lesbian, she replied that she has a "Proud Muslim lesbian" in her Twitter bio. Truly iconic because I've never seen a positive Muslim LBGT representation on TV at all before. However, one thing that I disliked is the hijab representation, because that's not what a hijab is like at all. She's just covering her head, whilst hijab is about covering your whole body, including the neck and ears, not just the head.
Zeynep, 16, Turkey, bisexual
I've been wearing the hijab for approximately four years now, and I live in a country where the most of the population is Muslim, but I get the, "Why do you wear the hijab?" question every day, and seeing the same thing on the screen and that speech amazed me. I like it was her choice to start wearing the hijab, not by force. And I like how she says loving girls is not just about sex, but actually is something that comes from heart. Back in May, June, I told some of my friends about my sexuality and all of them were like, "How can you like touching those things" — I said it's all about heart, just like Adena. Before joining Twitter, I thought there was something wrong with me because I have never met anyone like myself, especially since I'm living in a small city. Finding people that are similar to me slowly made me be okay with myself.
Alice, 20, Slovakia, lesbian
Many times Muslims are still portrayed as terrorists and villains in the media. If that's not the case, they're more likely given the same characteristics: most likely a man, heterosexual, working in either medical fields or the exact opposite — they're portrayed as uneducated or barbaric without any feelings. I think she feels so real because she represents the people who are a minority in the media (without any unnecessary negative stereotypes): gay Muslim women and Muslim women in general. You don't see us in the media, but we still exist.
Bahar, 19, Netherlands, pansexual
I watched three episodes back-to-back and it was just so good. I've never seen a lesbian on a TV show that was so open and strong and didn't care much about what people were saying about her. My friend and I who watch it identified so much and it felt so safe for us, like we shouldn't be afraid of who we are. Because lots of times we feel so afraid and like we're doing something wrong, and they made us feel much safer. I'm not out to my mom. But it would be a good show to show her. I'm really proud of how they treated everything and how women are so supportive of each other and so strong. I'm not ready now, but for later, it would be a good way to show my mom a Muslim woman who's queer, because she's so much like me and has the same background.
She said she wears a hijab because it confuses people, so I wasn't really sure if she's wearing it because of the religion or just to make a statement. Also, she has open spots, like her arms and around her neck and upper part of her body. The people around me who wear hijabs — I don't — they are more closed. I think it's great she wears it how she wants, but if I look at it from my family's perspective they would say she's not entirely wearing clothes.
Jordan, 22, Nigeria, queer
After I watched the first episode, I can't even count the number of times I rewatched the show. Personally, I don't even watch TV shows that much because I just don't feel connected to the story lines, so I was surprised by how drawn to it I was. I just kept watching the episodes over and over again. And I surprised myself even more — I started a blog just to reblog about Kat and Adena's relationship, even though I don't have the time and I'm not the type of person who's really into social media.
I'd like to learn her background story, like how she was able to deal with her sexuality with regard to her religion. I haven't been open with my family at all, just my sister — it's a struggle for a lot of Muslim queer people, we tend to kind of keep it to ourselves because of fear of being rejected. So I'd really like to see how she was able to own her identity and be open about it. I've got a lot of queer friends online that are Muslim, because that's one of the places you can meet other queer Muslim people, and we've been talking about the show a lot and are all really excited about it.
Melike, 21, Turkey, bisexual
I heard about it on Twitter; I saw a tweet that said there was a Muslim character who is a lesbian and they just said explicitly that she's a lesbian, and I was like, Oh my god, I have to watch this. And I found out she also wears a hijab, and I cried. And I started watching it as soon as I could, and then I cried watching it too. I live in a very homophobic place. I came out to my parents but they don't even know what bisexual means. It's just very tense, like they don't let us march anywhere for Pride, so it was a very big deal. I always try to watch TV shows with LGBT representation and as for the Muslim part — well, I don't really see great examples of Muslim representation on U.S. TV, so that was also good. She's not a terrorist, she's a photographer. And I'm a design student, so I was like, Oh my god, I have so much in common with her.