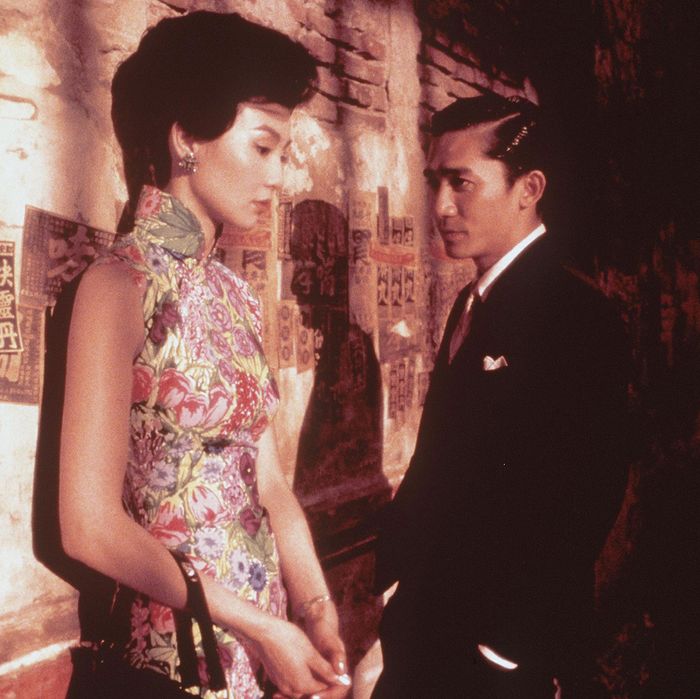 Wong Kar-Wai's
In the Mood for Love
.
Photo: Getty Images
On Pinterest, I used to have a private board called "Azn Stuff." Among the things pinned to it were the Eva Air Hello Kitty airplane (this actually exists and was the most fun plane ride I've ever had), a recipe for DIY soup dumplings (never attempted), and all 21 of Maggie Cheung's richly-patterned qipaos from Wong Kar-Wai's In the Mood for Love.
Wong's movie is so beautiful that despite the film's depressing story line (a man and a woman bond over their partners' infidelity), some people use it as a concept for engagement shoots. Art director William Chang and Wong had over 46 qipaos — or traditional Chinese outfits — custom-made by Shanghai tailors for Cheung's costumes. The light blue one with the fully bloomed yellow and orange daffodils and green leaves is my particular favorite.
As we don't live in 1960s China, a qipao isn't necessarily an appropriate outfit for every day. Nor is one easy to come by. The shiny, inexpensive qipaos sold on Canal Street would probably make me look like a waitress moonlighting at an Asian-themed cocktail bar. A truly expensive qipao needs to be made in Asia by a specially trained tailor. There's not really anything in between. A qipao is also relatively formal attire, not something you can throw on with flat sandals or sneakers.
Enter Alexa Chung's version. Perhaps inspired by the beautiful black silk chinoiserie qipao she once wore to her birthday party at Nom Wah tea parlor (which I found on other people's Pinterest boards), hers is a modern take on the Chinese classic. It maintains the Mandarin collar but updates the shape with a shorter hem that hits mid-thigh and a less body-con fit, keeping it from being too sexy or veering too much into Dragon Lady territory. The fabric is a black-and-navy metallic floral chinoiserie jacquard, with luxe pearl fastenings along the side.
All these little things keep the qipao from looking like something I should be wearing for Culture Day, or like it's formal enough to be worn to a wedding with my relatives. It might not be something Maggie Cheung would wear in In the Mood for Love — but I could imagine her daughter taking one of her mother's classics, chopping it off, and retailoring it to make it look something like this.
If you buy something through our links, New York may earn an affiliate commission.