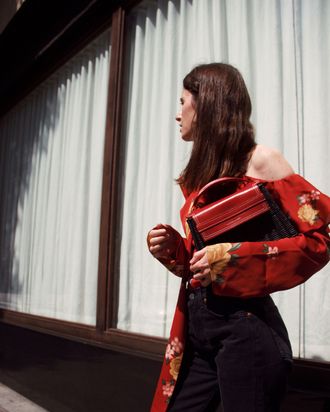 Some clothing is so wrong that it has to be right. In Why Do I Like This? we work through all the feelings that come with finding love in the least likely of places.
At this point in my life, both as a fashion editor and someone who wants to be smarter about shopping, I'm trying to pause and think before jumping on a trend — even if it's as easy and popular as straw and wicker bags. They're seasonal and fun, and for a while I entertained the idea of buying an affordable one to carry this summer.
But I never pulled the trigger. On some level, I knew I would only use that kind of bag on a summer Friday or a beach weekend, because the slouchy silhouette of your average straw bag feels far too bohemian for work.
On my quest for a version that felt a bit more structured and sophisticated, I took a cue from a recent post about how a black background makes florals feel fresh and striking. What about a black wicker bag? Finding one, however, took a lot longer than I expected. I lucked out one day when I saw Wicker Wings on my Instagram feed. From the first glance, it checked all the boxes: It was a cute, miniature bag that felt like the chic older sister to the straw and wicker bags I was seeing everywhere.
Let's consider the details. First off, it's made from entirely sustainable materials. The eye-catching red flap is made from Italian leather, the edges are hand-painted, and the inside has velvet-like lining with three pockets to organize all my crap. There's a top handle for carrying, or you can use the leather strap, which comes with three different lengths if you'd rather wear it as a cross-body.
The Wicker Wings bags are made to get better with age — something you don't hear that often — so the material won't fall apart as wicker sometimes does. Yes, it's expensive, but in my opinion, the longevity justifies the price tag. I'm not a wicker-bag kind of girl, but this is my kind of wicker bag.
More Black Straw & Wicker Bags We Love
If you buy something through our links, New York may earn an affiliate commission.