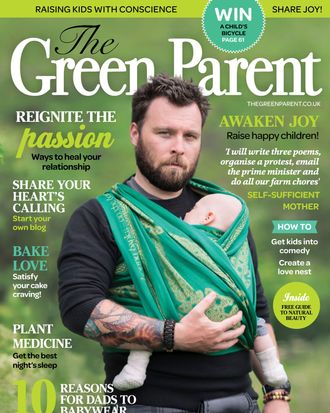 The Green Parent
.
Photo: Courtesy of The Green Parent
The Green Parent is a U.K. publication about "natural parenting" that belongs firmly in the genre of "magazines you only realize exist while waiting in the checkout line at Whole Foods." In this case, we first became aware of it via a tweet by New York Daily News opinion editor Josh Greenman:
The cover — which looks like something mocked up in the Portlandia writers room — is like an I Spy book for crunchy parenting absurdities.
First, there is the model: a tough-yet-sensitive tattooed dad holding his baby in a Celtic-printed scarf and staring at you, daring you to judge him for it while he tells you about the 10 Reasons for Dads to Babywear.
Then the suggestions, which are all over the place: Share your heart's calling … by starting a blog. (Please do not.) Learn how to … get your kids into comedy. (Is stand-up even safe to attempt under the age of 18?)
And finally, the "self-sufficient mother," who strikes fear in all our hearts:
I will write three poems, organise a protest, email the prime minister and do all our farm chores.
Who else is tired?