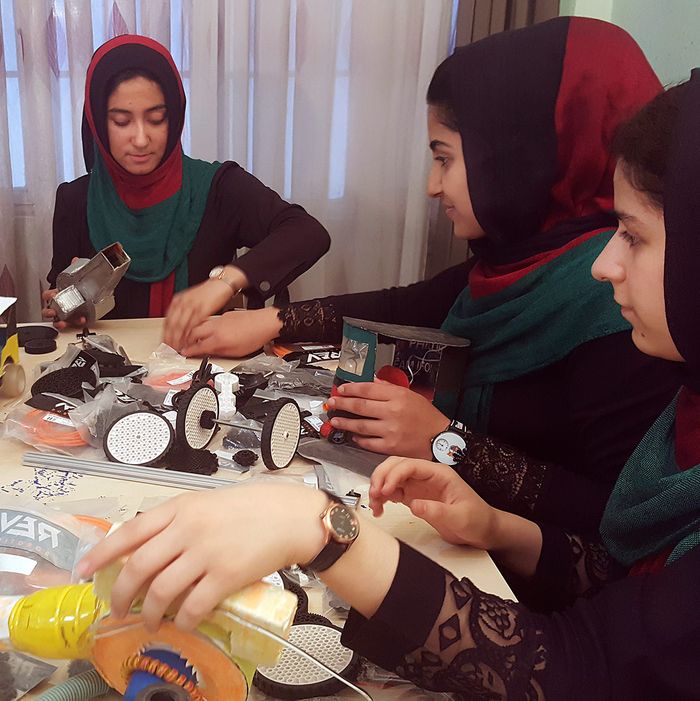 A team of six Afghan girls had hoped to travel to the U.S. for a robotics competition.
Photo: Copyright 2017 The Associated Press. All rights reserved.
After learning that their applications for U.S. visas had been denied once, six Afghan girls hoping to travel to the country for a robotics competition tried again. But on Monday, the Associated Press reported that their applications had been denied a second time, meaning they'll have to watch the robot they created compete via Skype.
"When we heard that we were rejected we lost hope," 14-year-old Sumaya Farooqi told the AP. "We applied again for the U.S. visa and we were rejected again."
They'd had to overcome myriad obstacles to even enter the competition in the first place — according to the AP, the girls first had to convince their family members to let them participate, which can be next to impossible in a country with a strong stigma against women entering STEM fields. They then had to travel 500 miles from their hometown of Herat to the Afghan capitol of Kabul not once but twice; the city was the site of a truck bombing in late May that killed dozens and wounded hundreds.
The U.S. State Department hasn't said why the girls' applications were denied, although the Washington Post points out that U.S. law "'presumes' all temporary visa seekers intend to remain in the United States unless they are able to prove they have compellingly strong ties to their country."
But two of the girls said they'd told U.S. officials they'd intended to return home. "Each of us gave them written guarantees from two government employees vouching for our return," said 16-year-old Rodaba Noori. "We have our life and family here. How could we abandon them?"
Afghanistan isn't included in President Trump's order banning travelers from six Muslim-majority countries from entering the U.S. Syria, Iran, and Sudan are, but their teams were all granted visas. The competition, which is sponsored by FIRST Global, will take place in Washington, D.C., from July 16 to 18. Fatemah Qaderyan, who's 14, told Reuters she still had high hopes for their creation. "We did our best, and we hope that our robot could get a position along[side] robots from other countries," she said.