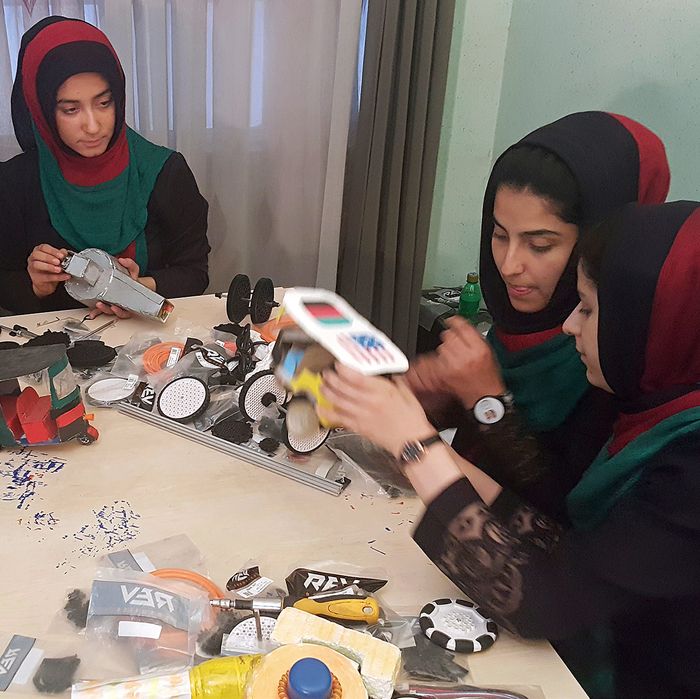 Members of the robotics team.
Photo: 2017 The Associated Press
A group of six girls from Afghanistan will now be allowed into the U.S. for an international robotics convention, after having their visa applications denied twice. They are currently in Kabul to receive their documentation from the U.S. embassy.
The six girls will not technically be on visas, but will have parole status, which allows them to remain in the U.S. for ten days. Politico and the Washington Post are reporting that President Donald Trump intervened to reverse the Department of Homeland Security's decision.
It's still not known why they were denied in the first place, but a spokesperson for the Department of Homeland Security told AP, "All visa applications are adjudicated on a case-by-case basis in accordance with U.S. law."
If the visas hadn't been granted, the girls would have been forced to watch the competition via livestream, a competition they spent six months preparing for seven days a week. They also "[convinced] family members" to let them compete, as Afghan culture often discourages women from entering into the hard sciences. Their robot sorts objects and recognizes colors.
The team's manager, Alireza Mehraban told the Washington Post, "It's a happy moment for our team," and, "It's important for Afghan women to be able to share their ideas."