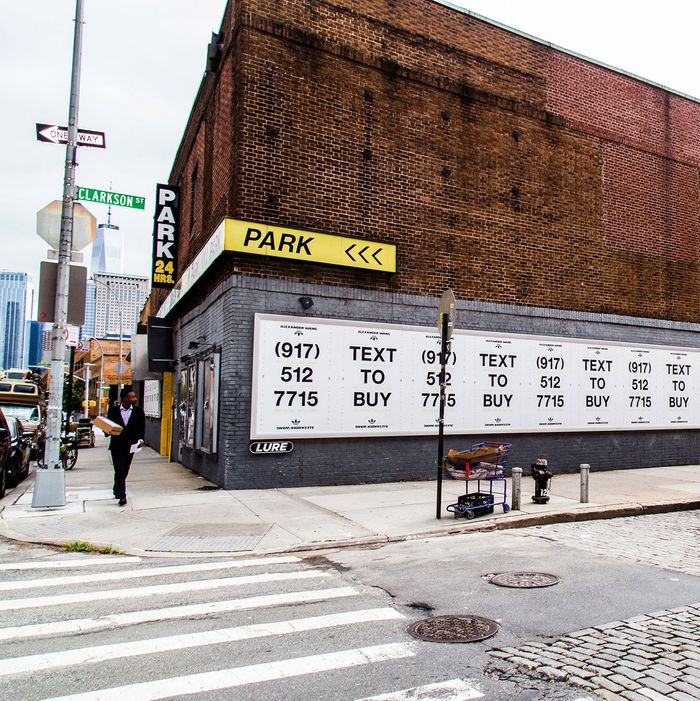 Alexander Wang x Adidas Season 2.
Photo: Devin Yalkin
Whether they're delivering hot tacos, a bouquet of roses, or some weed, bike messengers are an integral part of New York City's ecosystem. And no one knows this better than the city's champion designer, Alexander Wang, who, judging by his cannabis-inspired fall 2016 collection, has been on the receiving end of at least one of the above.
On Tuesday morning, Alexander Wang and Adidas revealed that the designer's Season 2 unisex athleisure collection is not only inspired by bike messengers, but will also be distributed by them. Starting on July 29, New York will be plastered with billboards and posters displaying the full Season 2 campaign and products, plus a rare 917 phone number. All you have to do is text your order with a corresponding product code, and an athleisure-clad bike messenger will hand-deliver your package to you, wrapped in plastic like a bulk illicit substance. It's at your discretion whether you invite him or her in to enjoy your purchase.
Alexander Wang's first collection for Adidas was distributed in a similar fashion, although customers had to call a phone number instead to learn the location of a pop-up truck nearby. The Season 2 drop is far more adrenaline-filled, and a corresponding campaign film by Ryan Staake shows a fleet of bike messengers doing a series of runs, only to all reconvene later at a basement rave — perhaps to work out the frustration of stiffed tips.
As a whole, it's a fitting marketing strategy for an urban designer like Alexander Wang, as well as a cheeky response to today's see-now-buy-now world. Here's hoping Leonardo DiCaprio will be inspired to join on his Citi Bike.
Watch the Season 2 teaser video, below.