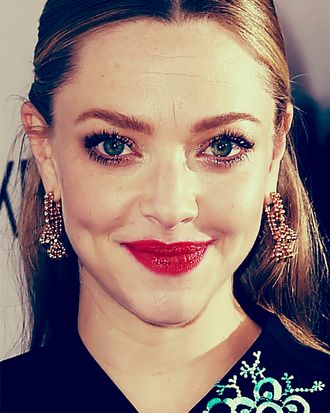 Amanda Seyfried.
Photo: 2017 Getty Images
Amanda Seyfried and husband Thomas Sadoski welcomed their first child in March, and the acting couple has been pretty vague on details about the baby girl so far. But now, Seyfried has finally opened up how she revealed her pregnancy to Sadoski: through an "abstract" poem.
In a recent episode of the podcast Dr.
Berlin's Informed Pregnancy, Seyfried discussed her "accidental" pregnancy. If you were wondering, her period usually always arrives on time, and it happened to be late. She took a pregnancy test, and presto, that thing was positive. Alas, Seyfried was out of town working, so she decided to wait a couple of days to tell Sadoski in person.
"At one point I was like maybe I'll just send him a picture of it, but I didn't want to take anything away from the experience. I wanted to add to the experience," Seyfried said. "And I felt like I would have been taking away the moment that we could have shared, the moment that he found out, because you don't get many chances in life to have these types of moments."
Therefore, Seyfried opted to reveal the pregnancy through a poem that she read aloud to Sadoski. He, in turn, did not pay attention to her poem, which is understandable as it was a poem being read aloud to him. "He was like, 'Aw, that's a nice poem,' and I was like, 'You weren't listening. Did you hear what I said?,'" Seyfried said before adding, "It was a little abstract."
Sadly, the actress wouldn't recite the poem for the podcast listeners, teasing that we'll have to "stay curious" about it. Meanwhile, we're just surprised that our hypothesis that she revealed the pregnancy by tying a positive test around her dog Finn's collar was wrong.