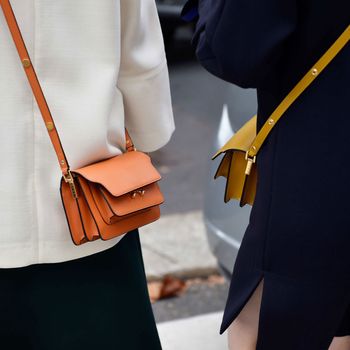 Welcome to Prime Suspects, in which we call out surprisingly chic discoveries on Amazon.
When it comes to cute and cheap shoes, Amazon has some solid options that we're big fans of. This week they decided to get in the game themselves and just launched their own accessories line called The Fix, which is filled with fun pieces inspired by runway trends. Currently there are 45 styles available starting at $49 for handbags and $69 for shoes, including cute little mini bags, of-the-moment mules, and cool strappy sandals. Think of them as the affordable little extras you can use to jazz up your work dresses, weekend beach looks, and simple shirtdresses. The best part? They're all available via Prime, so scroll ahead for our favorites.
Yes, you've seen this style of sandal at nearly every millennial-friendly site but if you still don't own a pair, here's your chance.
If you're looking to get more fancy flats, consider these metallic moccasins that are easy to slip on whenever you're in a rush.
This bag is the most expensive-looking of the bunch because they choose a grained leather that's been dyed a bright red.
If you want a pair of every-day sandals you can walk in but that don't feel boring, these will be your new favorites. The only downside? They will also most definitely give you tan lines.
No. 21 has been making dramatic-bow mules for a few years now and this is inspired by them, albeit with a more manageable knot.
We're fans of bucket bags for their convenience and practicality.
If you buy something through our links, New York may earn an affiliate commission.