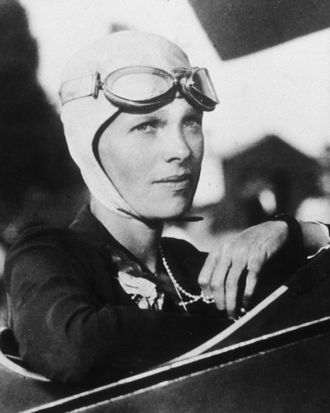 Amelia Earhart.
Photo: Getty Images
For 80 years, the mystery of what in the hell happened to Amelia Earhart on her round-the-world journey has perplexed the public. Though Earhart and her navigator Fred Noonan were believed to have crashed in the Pacific Ocean on July 2, 1937, no trace of her plane or either person's remains were ever found, and the curious have never stopped looking for answers.
Uh, what's that you say? A retired federal agent may have discovered a blurry photo of Noonan and Earhart in the National Archives that could prove they successfully crash-landed in the Marshall Islands before being allegedly captured by the Japanese military?
Wow, damn.
In an upcoming exposé on the History Channel that airs July 9, Amelia Earhart: The Lost Evidence, federal agent Les Kinney shares information about a photo he discovered while scouring thousands of documents in the National Archives. The photo appears to show Earhart and Noonan in front of a barge towing an airplane, and the image is stamped with the official markings of the Office of Naval Intelligence.
Lest we doubt that the figures in the photo are indeed Earhart and Noonan, a facial-recognition expert asserted that it is "very likely" that what we are looking at is the missing pair. As for what happened to Earhart after the crash-landing, theorists believe she was captured by "Japanese military and died while being held prisoner on the island of Saipan," according to the History Channel.
But when will we solve the mystery of why the late aviator's last name is pronounced "air" instead of "ear"? Perhaps we shall never know.