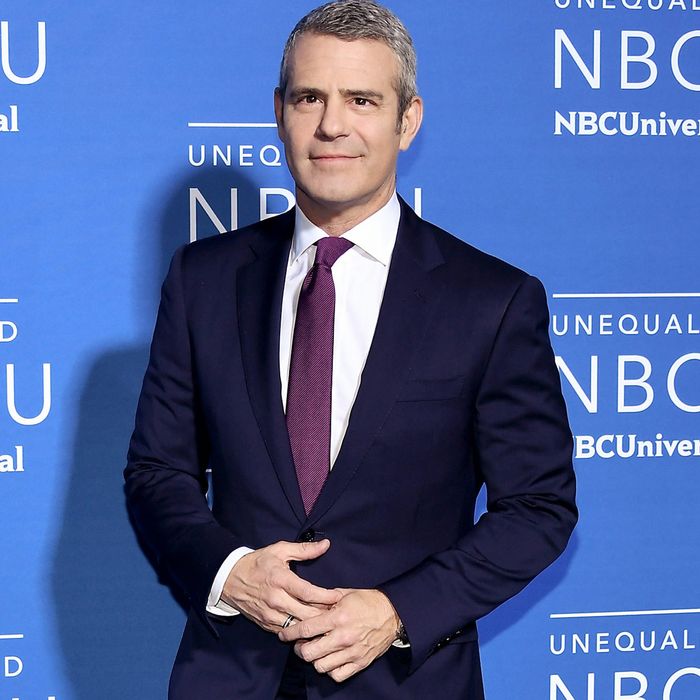 Andy Cohen.
Photo: 2017 Getty Images
Where would we get our daily dose of drama without Andy Cohen? (The Kardashians, probably.) The executive producer of the Real Housewives franchise, late-night talk show host, and all-around Bravo titan serves a healthy amount of drama to viewers nearly every day. His personal life registers a little bit lower on the excitement Richter scale, but it does involve a ninja trainer. Read on to find out how he does wellness.
How I start my day: I wake up at a different time every day. I start my day basically aggressively cuddling with my dog. And then I aggressively lunge for some Yorkshire Gold black tea with milk, and I have a piece of dry toast. After that is consumed, I take my dog out for a walk. If it's on a weekend I'll more likely go out for an omelette or be a little more festive.
How I like to sweat: I have two trainers. One is a Muay Thai trainer — I call him my ninja — and he is an MMA fighter. We kickbox and box and do a lot of floor and core work. My other trainer is at Equinox and we do more typical weights and floor work. I don't really do classes. I'll do Tracy Anderson sometimes in the summer in the Hamptons, and I've flirted with Barry's Bootcamp. I'm not really a SoulCycle guy because they always scream at you.
What wellness means to me: Taking care of your body.
How wellness has changed for me: When I got to the point where I could afford a personal trainer, my idea of wellness changed because my workouts became better. I used to go to the gym and just kind of walk around looking at guys and talking to people and not doing anything. When you're actually paying for a trainer, it means you're probably going to get a better workout.
My approach to nutrition: I'm either being really healthy or just not. There are moments in my life where I am trying to lose weight for something, and unless that's happening I try to indulge within reason. The funny thing is I'm usually the most out of shape in the summer. It's ridiculous, but I like to eat hot dogs and hamburgers and ice cream in the summer and I just don't believe in denying myself. Life is too short and it's boring to not enjoy yourself.
My wellness struggle is: Monitoring my drinking, my carbs, and my cardio.
Products I recommend: Your faucet because water is so simple and it's available to everyone and we all need it. I also recommend counting your steps, which you can do on the Samsung Galaxy S8, which I like.
This interview has been edited and condensed.