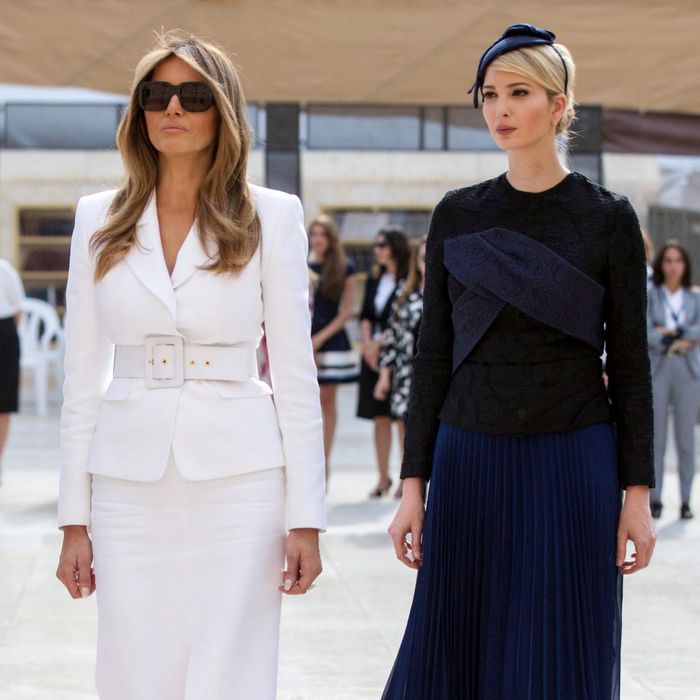 Ivanka and Melania Trump are both in Hamburg today.
Photo: Getty Images
Melania and Ivanka Trump both accompanied the president to Hamburg, Germany, for the G20 Summit, and while Donald schmoozes with other world leaders, German chancellor Angela Merkel has planned a series of activities to keep his wife and daughter occupied. And although other first spouses are invited along, one of Friday's events was specifically planned with the Trumps in mind.
According to Bloomberg, they're scheduled to tour the German Climate Computing Center, a lab that uses supercomputers to model the progress and effects of climate change. The visit was reportedly proposed by Merkel's husband, Joachim Sauer, who's a physical-and-theoretical-chemistry professor.
Sauer hasn't actually come out and said that the visit is an attempt to school the First Daughter and First Lady on climate change, but his wife has made her opinions on the subject pretty clear. "Since the withdrawal of the U.S., we're more determined than ever that this be a success," she said in a speech to the German parliament after President Trump pulled out of the Paris climate accord. "We can't wait for the last man on Earth to be convinced by the scientific evidence for climate change."
"These will not be easy talks," she continued, referring to the G20 summit. "The differences are obvious, and it would be wrong to pretend they aren't there."
Melania has never shown any interest in climate change, but back in December a source told Politico that Ivanka planned to make it one of her "signature issues." However, considering her dad pulled out of the Paris agreement against her wishes, it's unclear how much influence she actually has when it comes to convincing him that climate change is not a Chinese hoax. Either way, the tour is sure to be stimulating — provided she and the First Lady can make it out of their hotel rooms.