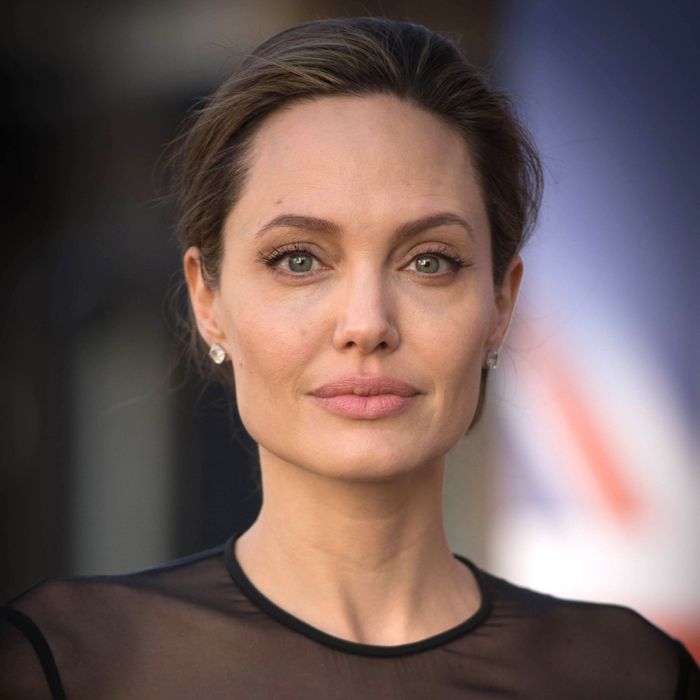 Angelina Jolie.
Photo: Stefan Rousseau - WPA Pool/Getty Images
Angelina Jolie has been widely criticized for the news that she cast her new film — First They Killed My Father, an adaptation of Loung Ung's 2000 memoir about the Cambodian genocide — by playing a game where she gave and then took away money from impoverished Cambodian children. But perhaps a more concerning fact is that Jolie reportedly worked with the repressive Cambodian government and military in order to make the film.
According to Vanity Fair:
Cambodia went all in — closing off Battambang for days, giving the filmmakers permits to land in remote zones, providing them with 500 officials from their actual army to play the Khmer Rouge army.
Brad Adams, executive director of Human Rights Watch's Asia Division, says that if the detail about 500 soldiers is correct, that raises serious concerns. "To ask for permission to make a film and thereby invest in the local economy is fine, and you're going to have to have some meetings with some government officials. But you can take a stance to make sure you don't empower, legitimize or pay the wrong people. And working with the Cambodian army is a no-go zone, it's a red flag, and it's a terrible mistake," he said. "This is an army that is basically an occupying force of a dictatorship, it's used to put down environmental activists — the kind of thing that she stands for is in direct contrast to what this government is."
Adams points out that there would have been ways for Jolie to film in Cambodia while still avoiding involvement with the Cambodian army, "which continues to be an extremely abusive rights-violating force." For instance, she could have hired extras to play the part of Khmer Rouge soldiers.
"There's moral hazard in having any relationship or dealings with the Cambodian government," Adams continues. "It's not clear whether she understands that and it's not clear whether she cares about it." He points to the fact that the Prime Minister of Cambodia, Hun Sen, is a dictator who has a record of killing, exiling, jailing, and threatening political opponents, and that Hun Sen, as well as other country leaders including the defense minister and head of the military, are former members of the Khmer Rouge. "This film is about the horrors of the Khmer Rouge, yet she is dealing with former Khmer Rouge, and apparently in a noncritical way," he said.
This is not the first time that Jolie's overseas work has prompted ethical concerns. Back in 2002, Jolie purchased land for the Maddox Jolie-Pitt Foundation from Yim Tith, an alleged mass murderer and former commander for the Khmer Rouge. "Whether it was her mistake or her employee's mistake in making that transaction, it shouldn't have happened. She should not have been transferring money to a guy charged with genocide," said Adams.
We've reached out to Angelina Jolie and Netflix for comment and will update if we hear more.