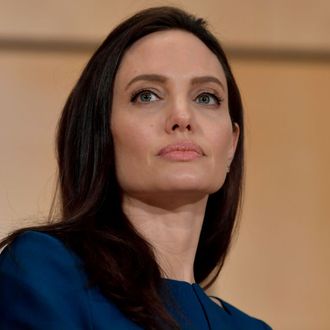 Angelina Jolie.
Photo: Harold Cunningham/Getty Images
Angelina Jolie is refuting a key, controversial passage from her recent Vanity Fair profile. The actress made a statement to the Huffington Post on Saturday, in response to VF's disturbing description of the "game" played as part of the casting process for her Cambodian film First They Killed My Father. Author Evgenia Peretz wrote that Jolie sought out children "who experienced hardship" in orphanages and slums, manipulated them into "snatching" money placed on the table in front of them, and then pretended to "catch" the children taking the money before forcing them to return it. According to Jolie, however, this is a misleading distortion. In her statement, she explains that the "game" was actually an improvisation exercise based on a scene in the film — itself based on a real-life experience of Loung Ung, the subject of First They Killed My Father — and that no real money was ever taken from children. "I am upset that a pretend exercise in an improvisation, from an actual scene in the film, has been written about as if it was a real scenario," Jolie said. "The suggestion that real money was taken from a child during an audition is false and upsetting. I would be outraged myself if this had happened." She also added that doctors, parents, guardians, and nongovernmental-organization partners were present for auditions and the entire making of the film.
Jolie didn't speak to the troubling example specifically cited in the Vanity Fair profile, in which she herself describes Srey Moch — the actress later chosen for the part — becoming "overwhelmed with emotion" after being "forced to give [the money] back." Jolie has also raised serious concerns for her reported collaboration with the "abusive, rights-violating" Cambodian Army. She did not reference this controversy in Saturday's statement.
Below is Jolie's full statement to HuffPo.
Every measure was taken to ensure the safety, comfort and well-being of the children on the film starting from the auditions through production to the present. Parents, guardians, partner NGOs whose job it is to care for children, and medical doctors were always on hand everyday, to ensure everyone had all they needed. And above all to make sure that no one was in any way hurt by participating in the recreation of such a painful part of their country's history.




I am upset that a pretend exercise in an improvisation, from an actual scene in the film, has been written about as if it was a real scenario. The suggestion that real money was taken from a child during an audition is false and upsetting. I would be outraged myself if this had happened.




The point of this film is to bring attention to the horrors children face in war, and to help fight to protect them."