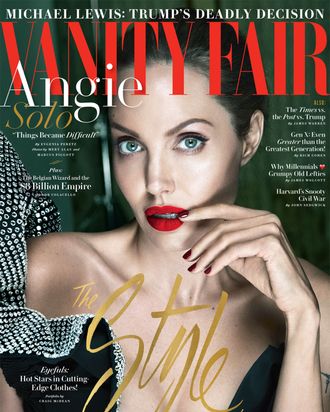 Angelina Jolie on the cover of
Vanity Fair
.
Photo: Mert Alas and Marcus Piggott/Courtesy of Vanity Fair
This afternoon, Vanity Fair released its September cover story on Angelina Jolie. Longtime contributor Evgenia Peretz interviewed Jolie in her new "11,000-square-foot beaux-arts mansion" in Los Angeles, and Jolie talked at length about her directorial work and charity missions across the world. What she did not reveal is literally any gossip about her high-profile, contentious, and ongoing divorce from Brad Pitt.
In May, Pitt gave his (pretty candid) side of the story to GQ Style, which seemed to help the public forgive him for whatever it is he did to trigger Jolie to file for divorce and sole custody of the children last September. Vanity Fair could have been Jolie's chance to garner public sympathy, but instead she gave Peretz stilted, sort of impenetrable quotes about "healing." Here's what we got.
On what led to the divorce:
Things got bad. I didn't want to use that word … Things became 'difficult.'
On how she's felt since the filing:
It's just been the hardest time, and we're just kind of coming up for air. [This house] is a big jump forward for us, and we're all trying to do our best to heal our family.
On how the children are handling it:
"They've been very brave. They were very brave."




Brave when?




"In times they needed to be."
On "things in life":
We're all just healing from the events that led to the filing … [The children are] not healing from divorce. They're healing from some … from life, from things in life.
And that's about it. If Jolie was ever going to address the details of the split, she would have done so during this interview. Now, we can all give up on ever finding out exactly what drove her to file for divorce.
Jolie did toss out one unrelated bit of gossip about her relationship during the interview, however. While examining her new throw pillows, she told Peretz that interior decorating was "always Brad's thing." You can read the full profile here.