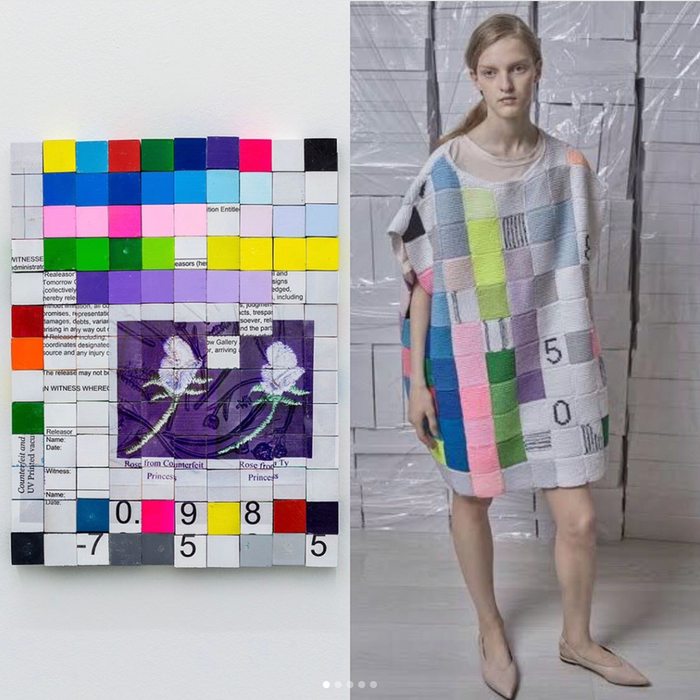 Photo: Courtesy of Brad Troemel /Instagram
In an Instagram battle for the books (because where else would you call out a copycat?), fine artist Brad Troemel accused Vika Gazinskaya of "directly copying" his work in her spring 2018 ready-to-wear line. Troemel called out Gazinskaya for failing to name him as a source of inspiration for her latest collection when giving an interview to Vogue.
"Lol if youre [sic] going to go through the trouble to shout out a choreographer you might as well acknowledge what you actually copied ya goof. These go for $1500 a pop so DM me to get the address you can send the check to," Troemel wrote.
The collection and Troemel's pieces feature a near-identical colored grid.
The designer entered the fray after someone commented on one of Gazinskaya's posts, "copied from Brad Troemel." Gazinskaya responded, "Actually, it is too obvious to 'hide' it. So, it is an inspiration. And I can use art in my clothes as much as I want."
In a new post (naturally), Troemel wrote the collection is, "theft, pure and simple."
Gazinskaya commented that she had found a picture of his artwork, but neither she nor the Vogue author knew who the artist was. She also hinted that she had privately messaged that she would retroactively add him as an inspiration. At the time of publication, the review does not mention Troemel.
"I wrote u this, saying that we will add the 'inspiration' being u. Since now I figured out your name. But u prefers to stay angry – I thought artists are more kind and spiritual."
The saga continued when Troemel posted what he said was a cease-and-desist email from Gazinskaya's lawyers.
In the screenshot, the email says, "In any event, my client's designs do not violate your art any more than your art violates the rights in 80's-inspired grid patterns that were all the rage when I was a kid."
Troemel responded in the caption, "It's not my opinion Vika copied my work, she publicly admitted it," referring to her Instagram comments. "The strength of appropriation as an artistic strategy is based on its acknowledgement of source material."
Moral of the story: Cite your sources. Especially when giving interviews to Vogue.